Scented Paths & Fragrant Addresses: The Ultra Peau Exhibition, Roger Hiorns, Barfumista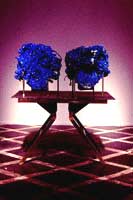 •A very interesting exhibition is currently taking place in Paris devoted to a renewal of our perception of skin. For instance, a sort of wall-skin called "emotional skin" has been designed so that people can see it move or blush when they touch it. Artists comment on their visions of skin on videos and the visitors are invited to watch them, lying down on a mattress. The relationship between skin and identity is explored. And last but not least, a section of the exhibit is devoted to how the skin smells depending on the state it is in, for instance, depending on how soft or dry it is. The exhibit runs at the Palais de Tokyo from April 25 to June 21 2006.


•British sculptor Roger Hiorns, well-known for his use of scents in his sculptures, is currently holding his first major exhibition at the Milton Keynes Galllery. It runs from April 8 to May 28 2006.
•A new niche scent boutique may open in New York city by the end of the year according to Cosmetic news. It will be a branch of the already existing Barfumeria in Spain. The owner, an American, is hoping their planned move will come through. You can check their site in Spanish: