Fragrance News: Agent Provocateur to Launch New Perfume called Maîtresse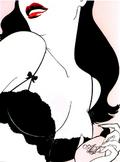 The lingerie label Agent Provocateur will launch its second fragrance in August 2006, an enticing juice containing Iso E super called Maîtresse (Mistress) as part of its effort to establish itself as a "house of fragrances." The new perfume was developed over the course of four years by nose Azzi Glasser Christian Provenzano in collaboration with Joe Corre and Serena Rees. (Azzi Glasser is the marketing director for the fragrance, not its author. Source: Christian Provenzano).

It is described as a perfume using modern aldehydes throughout its composition without conforming to any family of perfumes. "Top notes include white lotus petals and ylang ylang with a heart of osmanthus flower, jasmin sambac and orris bud together with rose absolute and violet leaves. The base accord combines white suede, musk, Iso E super and hot amber oils." A special manufacturing process requires that the juice be left to steep for five weeks before being bottled.
It will be available starting August 31 exclusively at Selfridges in London and in Agent Provocateur stores. It will roll out to the rest of the UK on September 18. 50 and 100 ml bottles will be available at Pounds 44 and 62.
Source: Cosmetics International
Photo: Agent Provocateur