New Perfume: Pleasures Summer Bouquet by Estée Lauder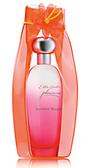 The 2006 edition of Pleasures Summer by Estée Lauder is now available and is called Summer Bouquet. Interestingly enough no description of the notes is offered just like last year for Summer Waters. It is described as a fun, exhilarating, soft, and fresh fragrance.
The packaging contains a "modern reusable vase topped with a fun hair accessory."
Price is $49.50. Shipping is free for purchases of $50 or more from the esteelauder.com site. Free samples are included with every order.