Fragrance News: Tommy 10 & Tommy Girl 10 by Tommy Hilfiger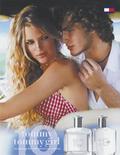 To celebrate the 10th anniversary of its first steps in the fragrance business the Hilfiger brand will launch a duo of scents in September called Tommy 10 and Tommy Girl 10. The scents are described as being fresh and natural and are meant to evoke an "American journey."The notes read like a roadmap of this journey.
"Tommy Girl 10 has top notes of tart Nantucket cranberry, luscious Marion pear, sweet Pixie tangerine and Indian River grapefruit; a heart of Mississippi magnolia, California honeysuckle and Virginia water lily, and a drydown of Vermont cream, butterscotch and Rocky Mountain birch."
"Tommy 10, for men, opens with notes of Seattle rain, Hawaiian pineapple, Fresh Kentucky bluegrass and tart Cape Cod cranberry; has a heart of wet violet, Rocky Mountain blue spruce and Arizona saguaro cactus flower, and has a drydown of Long Island driftwood, Vermont red maple wood and Wyoming cottonwood."