Fragrant Reading: Article on Nobi Shioya by Chandler Burr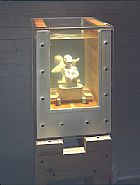 There is an article on sculptor and scent artist Nobi Shioya a.k.a Sacre Nobi by Chandler Burr in V of summer 2006. The article is downloadable in pdf format here.

Nobi Shioya is also the originator of the project Made by Blog which chronicles the creations of two perfumes thus bringing into the open a process that is usually shrouded in secrecy.
Altar Boys in Water, 1995
Image source: www.artnet.com