New Perfume: Betsey Johnson by Betsey Johnson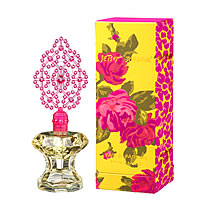 This is the day of wonderful (see Sisley below) and gorgeous over-the-top fragrance bottles. Wonderful eccentric and designer Betsey Johnson has officially introduced her signature fragrance which will be distributed exclusively at Bloomingdale's until September before being sold in other locations like Nordstrom and Sephora. The bottle and the packaging were designed by an independent Dutch firm, Colorful Licenses. The fan-shaped top is flexible to allow the flacon to be easily carried in a purse while offering all its glamour once it's released. A woman after my own heart, Betsey Johnson has confessed that she has been known to buy beautiful perfumes with despicable juices in them. Let's hope Johnson took care not to do the same thing with her juice. If the scent is as gorgeous as the bottle it should smell gooooood.

The tantalizing juice is described as a fruity floriental. Top notes are pear, tangerine, grapefruit and blackcurrant. Heart notes are freesia and lily of the valley. Base notes are cedarwood, sandalwood, praline, amber and musk. The perfume was composed by nose Bernard Blanc in collaboration with Mane and the Karis Group and Betsey Johnson.
Betsey Johnson in 50 and 100 ml flacons will retail respectively for $55 and $75.
Sources: The Moodie Report and Women's Wear Daily