Fragrance News: Cuir Ottoman & Iskander by Parfum D'Empire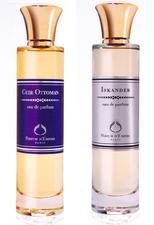 Perfumer Marc-Antoine Corticchiato, the founder of Parfum D'Empire, will launch two new fragrances in October 2006 called Cuir Ottoman and Iskander. Following the fundamental inspiration of the line these new perfumes will pay homage to the Ottomans and to Alexander the Great (Iskander stands for Alexander in Persian) after having proposed to illustrate the destinities of Napoléon, Joséphine, and the Empire of the Romanovs. Coticchiato who is also a doctor in chemistry has set up a collaboration with historian Elisabeth de Feydeau the author of A Scented Palace to create perfumes for his line.
Iskander includes notes of citron, mandarine, grapefruit, orange blossom, tarragon, coriander, oakmoss, musk, and amber.
Cuir Ottoman has notes of iris, Egyptian jasmine, burnt styrax, leather, tolu balsam, and benzoin.
The two new scents will be in eau de parfum concentration and will be sold for 83 Euros.
Source: FashionMag.fr