Scented Quote of the Day, from Serge Lutens: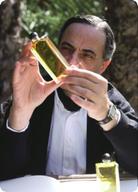 Given the question, "what is your philosophical recipe for happiness?" Serge Lutens answers:

One day I heard a sentence -- was it in a movie? -- that summarizes my philosophy pretty well: "When the gods want to punish you, they grant all your wishes." Very often, when we wish for something, what we get is something else. And it is that other thing that, in my opinion, is the most interesting. This applies to the making of a perfume. From the time the essences are arranged to reach a desired effect to the time when a result is actually achieved by their association, there is a world of difference. At that point in time I usually say to myself, "Thank God, my wish was not granted!"
(Translated from the French by Mimi Froufrou)
Image source: Aus Liebe zum Duft