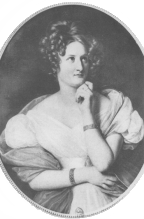 Dear Readers,
It has come to my realization that as my publisher is awaiting for my book manuscript to be sent to him in the next few weeks, I will need to post less regularly or do easier pieces. You may have noticed that I was less present these past few days and so I thought it would be better to give you the heads up on this change of rythm and explain why I have to do this. I have decided to continue posting but less frequently so or more simply so in the next month. I will try to make this work by changing the formats of my posts which will be shorter and more synthetic, conceived of more like notes, maybe not a bad thing after all. I will also get my inspiration from Victoria's Own and post about what perfume I am wearing at the moment of writing the post.

Thank you all for your wonderful contributions and see you more at length in September,
Yours,
Mimi Froufrou
This is the picture of one of my ancestors, a 19th century woman writer. Do you recognize her? I am going to invoke her spirit to guide me in these last stages of writing.