Fragrance News: Upcoming Fragrance Book, Le Printemps de Guerlain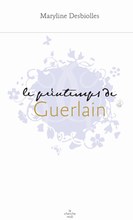 The Editions du Cherche-Midi is going to publish a new book on the house of Guerlain entitled, Le Printemps de Guerlain. It is written by Maryline Desbiolles, the recipient for the Femina literary prize for her book, Anchise. The author traces the 178 year old history of Guerlain.
It will be published at the end of October 2006, in the collection "Beaux Livres" and will retail for 50 Euros. The book is 256 pages long and comprises more than 80 unpublished documents. It will be sold in France, Belgium, Switzerland, and Canada in bookstores as well as in the Guerlain boutiques.
Source: Au Féminin