Fragrance News: A Perfume Website for With Love by Hilary Duff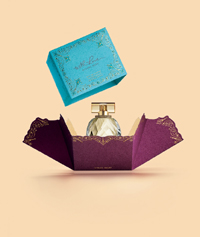 Hilary Duff has set up a website to showcase her upcoming fragrance, With Love. You can watch a short video showing the shooting of her advertising campaign.
And here's what Duff has to say about perfume:
"I love wearing a beautiful fragrance and don't feel completely dressed without one."
Sources: www.hilarynet.org, www.undercover.com, The Moodie report
Photo shows how the carton for the perfume unfolds like a flower when opened.