New Perfume: Live Luxe by Jennifer Lopez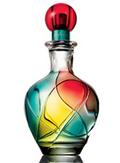 "US. Coty Prestige has formally unveiled its new women's fragrance from Jennifer Lopez. Live Luxe will be launched in the Americas this month, before rolling out to Europe in September and Asia in October.(...) The juice opens on notes of pear and peach, leading to an exotic heart of amethyst freesia and muguet petals. The base is a blend of diamond musk and soft amber." It was created by Claudette Belnavis of Takasago. The bottle was designed by Guy Williams.

Jennifer Lopez has been so successful with her initial perfume launch of Glow by J.Lo that she has single-handedly inspired a major celebrity perfume trend; Coty is re-centering their whole business around this idea. In December 2006, J. Lo will introduce another perfume, her 7th perfume launch including spin-off limited editions: Glow at Dark...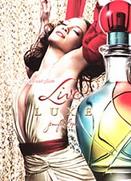 Update: Escentual.co.uk already carries Live Luxe. They also provide more detailed information about the notes: "An exquisite, multi-faceted, fruity, floral and blend! Top Notes: Juicy Pear, Exotic Melon, Apple Twist and Electric Citrus. Heart Notes: Sun Sweetened Honeysuckle, Amethyst Freesia, and Muguet Petals. Drydown: Skin Musk, Creamy Vanilla, Soft Amber and Sandalwood."
Please click here to read my review of Live Luxe.
Sources: The Moodie Report,
Wikipedia,
Escentual.co.uk,
& Cosmetic News