Perfume Review & Musings: Jammin by Réminiscence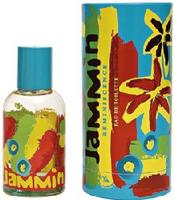 Jammin is an English slang term for a newly released "musical" perfume by a popular French niche brand called Réminiscence. From what I have gathered from the reactions to my previous post about the release of Jammin, Réminiscence is a niche perfume brand that is little known or not at all in the US.
So why should I review a scent that is not exported to the States and that fellow perfumistas might prefer not to hear about lest it should create an unhealthy temptation in them to procure it? I think it smells interesting. I also know that perffanatics love to explore new territories, even in imagination, so here's to you and to your next trip to Paris or London...
Jammin is a rather unusual mix of patchouli, cardamom, and vanilla which makes it a green, sweet, soft, and dreamy patchouli scent with woody and spicy undertones. It starts off with a burst of grapefruit and then becomes deliciously sweet and intriguing with its pink pepper and cardamom spices notes resting on a voluptuous bed of patchouli softly enveloped by the gauzy veils of vanilla and Tonka. The patchouli is very much contained and evolves from hazy to creamy evoking the transient image of a cardamom chaï with savory accents. But this stage is very brief, more like a transition than a development. You may be reminded of Sira des Indes by Patou if you think hard enough about it but it's certainly not a copy of that fragrance, to the point that I almost think it's not worth mentioning it.The sweet, soft, creamy dry, and slightly powdery patchouli really does take over and guides your impressions in a different direction. The jasmine, cedar, and blackcurrant lift the scent adding some transparency and lightness to it. Cardamom is pretty prominent to my nose and I think this note gives the perfume a little sweet and green twist that is most pleasant while softening further, in its turn, the delicate patchouli.
Réminiscence's bestseller is a scent called Patchouli. We could therefore view Jammin as a tender, more summery take on this star note, but not just that. There is an effort at originality here that is perceptible and was successfully achieved in my opinion. Patchouli is a note that, more often than not, gets much maligned in certain quarters of contemporary society by people who got sickened by it in the 1970s.
As I have already noted, patchouli does however seem to be more popular in France, more so than in the United States, generally speaking. I think that it can smell divine. I still remember the sillage of a man I passed by on the street in Paris last spring that smelled of a very seductive and elegant patchouli scent.

The perfume is sweet but never vapid thanks to the supporting dryness of the patch and the liveliness of the spices. Therefore, despite the multicolored packaging which may seem to indicate the perfume conceptors wanted to target a young audience, it is perfectly workable for all ages. It will appeal to people who like their scents to be a little askew, different, while preserving elements of comfort and discrete, exotic sensuality.
Top notes are grapefruit, pink pepper, cardamom, and blackcurrant. Heart notes are cedar and jasmine. Base notes are musk, patchouli, vanilla, and Tonka. It is a limited edition.

For another very tempting soft and sensual patchouli scent I would recommend you try
George Sand by Maître Parfumeur et Gantier