New Perfume: Jammin by Réminiscence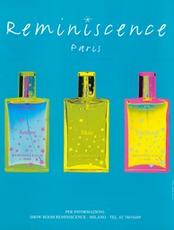 Réminiscence released a new, so-called "musical perfume" this spring called Jammin. It is characterized as a green, woody, and floral fragrance. Its "suave" character is said to evoke the "softness and sensuality of fragrant evenings."
Top notes are grapefruit, pink pepper, cardamom, and blackcurrant. Heart notes are cedar and jasmine. Base notes are musk, patchouli, vanilla, and Tonka.
Réminiscence has also undertaken to launch its first ever publicity campaign which centers on their best-seller, Patchouli. You might be interested to know that Juliette Binoche wore Patchouli by Réminiscence during the shooting of the movie featuring the life of George Sand, Les Enfants du Siècle, to get into character as Sand is famously known to have been devoted to the scent of patchouli. A Réminiscence boutique has also opened on March 18 in London.
Their perfume line comprises also Anjali (limited edition), Patchouli, Musc, Ambre (a trilogy of sensual perfumes based on these base notes), Eau de Rem, 2000 ans D'Amour, Rem, Réminiscence Homme, Patchouli Homme.
Jammin retails for 75 Euros. More information and pics of the flacon can be found on the Réminiscence site.
I have added a review of Jammin here.
Source: Réminiscence
Image source: Images de Parfums