Perfumista on a Shoestring: If You Like Ambre Passion by Laura Mercier, You Might Like Musk Amber by Nemat International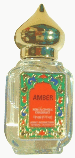 This summer I discovered the Nemat International line of fragrance oils from India as they are currently being sold in places like Whole Foods and other types of health food stores. I am struck by their good quality. So much so that the Kuumba Made line which previously ranked high in my opinion of such oils has now taken second place. The Kuumba Made oils which smelled satisfying to my nose and are supposed to be 100% natural now take on a less authentic aura compared to the Nemat oils. The latter have more depth, more complexity, richness, and are rounder. Ultimately, they smell more natural. I particularly liked both Musk Amber and Jasmine although I must hasten to add, I am not a jasmine fan.
Unfortunately, this flower has been so repeatedly mistreated that your average jasmine oil can feel pretty cliché. Not so with Nemat International, I recommend their jasmine oil...
Musk Amber was my favorite. It is a rich, warm amber with musky undertones. It immediately made me thing of Ambre Passion by Laura Mercier, a perfect scent for fall and winter.
The Nemat oil is thick and adheres well onto the skin. It is so thick it is sometimes a bit hard to make it drip out of the small flacon, it just stays put. You might want to use a toothpick to stir it and take out a drop or two.
The perfume will not project as much as Ambre Passion, being closer to the skin, and that may be a good thing because The Laura Mercier is on the heady side. But it is a surprisingly good amber perfume, independently of the price. If you like a very natural amber you should try these two and decide which one works best for you. The oils come in cute little Oriental style bottles. There are three sizes: 2.5 ml, 5 ml, and 10 ml respectively sold for $2.50, $4.00, and $7.00 at wholesale prices. Retail prices are marked up of course but the prices are still very reasonable, $7 to $8 for a 2.5 ml bottle that will last you a long time due to the high concentration of the oil. Ambre Passion by comparison retails for $65.