Scented Paths & Fragrant Addresses: JoAnn Bassett's Le Bijou Natural Perfumery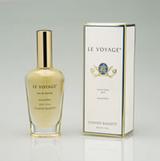 Le Bijou (Jewel in French) is the precious name of a natural perfumery boutique and studio located in La Jolla, California and headed by perfumer JoAnn Bassett since 1993. She is an International Certified Aromatherapist...
Le Bijou carries a line of perfumes, eaux de toilette, and room fragrances with Le Voyage being one of its bestsellers. Le Bijou creates signature fragrances and proposes classes in the art of fragrance as well.
For more information, check Le Bijou site and their sample program.

Address: 5560 La Jolla Boulevard, Suite A-2, La Jolla California 92037
Tel: 858.551.8604
Source: Press release