New Perfume & Perfume Short: Danielle by Danielle Steel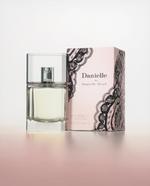 The first perfume by best-selling author, Danielle by Danielle Steel has now hit the perfume counters. It is described as a lush floral oriental and is meant to convey qualities embodied by the prolific writer and mother of nine children, that is, femininity and strength.

The juice, by Loc Dong of International Flavors and Fragrances, has top notes of lush green notes and Mediterranean mandarin; a heart of butterfly jasmine, sunset orchid and hydroponic rose, and a drydown of blue vetiver, white amber and cashmere musks.

The collection includes eaux de parfum in two sizes, 1.7 oz. for $49.50 and 3.3 oz. for $65, as well as a 0.5-oz. parfum, $125, and a 6.8-oz. body lotion for $35.

The eau de parfum bottles are faceted heavy glass rectangles, intended to be reminiscent of pieces in Steel's large fine crystal collection. The juice inside is tinted a pale yellow. The perfume bottle is a weighty glass rectangle with a glass dabber and faceted top. Glass for both was fabricated by Pochet...
I tested it quickly today; my first impression is that there is nothing to write home about. It smells pleasant and nice enough but unfortunately for my originality meter this one is not stimulated by the fact that it is yet another avatar of the milky fruity-floral juice which is very much en vogue this year. At this level of similitude the deciding factors for electing it to be on your vanity will be skin chemistry, loyalty to Danielle Steel, and the general image conveyed by the perfume; the bottles have a nive heft to them and the packaging is quite feminine. The design of black lace and pink satin on the box was inspired by one of Danielle Steel's favorite dresses.
I will say that it is a slightly more mature take on the milky fruity-floral brew as it is less sweet and lighter than Hilary Duff With Love, Betsey Johnson Betsey Johnson, Vera Wang Princess, and J-Lo Live Luxe. I am sure that on the right person, that is on the person that will be able to identify witht the perfume fully, it will smell lovely. I will let you know if I come up with any other impressions of it.
Source: Women's Wear Daily