Scented Paths & Fragrant Addresses: Santa Maria Novella Opens a Museum Wing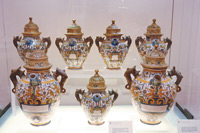 The historic Santa Maria Novella store in Florence called in Italian L'officina Farmaceutica di Santa Maria Novella in Firenze opened a new museum wing on September 15 2006.
"The collection covers eight centuries and includes medieval flacons, hand-painted vases and urns and marble pestles and mortars. [...] It showcases earthenware used to create elixirs and perfumes by the Dominican monks who started the pharmacy in 1221". According to the director of the historic pharmacy, Eugenio Alphandery, these ceramics from the 1600s come from two boxes found in a disused well. Old distillery machinery will be added later on.
Santa Maria Novella plans to open new stores in Sydney, Bangkok, Switzerland, and Japan by the end of next year.
The address of the store in Florence is: 16 Via della Scala. You can read more about the history of the pharmacy here.
Sources: Women's Wear Daily and Santa Maria Novella