Fragrance News: Glow After Dark by Jennifer Lopez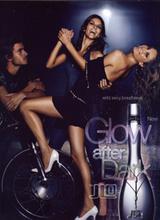 "Coty Prestige has unveiled Jennifer Lopez's seventh scent in 5 years. Called Glow After Dark, Charlotta Perlangeli stresses its difference with Glow, saying "The original Glow is angelic and personal but, by contrast, Glow After Dark is mischievous, charismatic and sexy." ...

The fragrance, a sheer floral musk, was created in collaboration with Gabriela Chelariu of Fragrance Resources and opens with fruity notes of lychee melon, sparkling mandarin, white cherry and passion fruit. The floral heart contains creamy jasmine, pink peony, freesia lace, Moroccan rose and orange flower while the base features soft pink musk, tree moss, Indonesian patchouli and blonde woods.
The fragrance line-up comprises 30ml, 50ml and 100ml edt sprays, a 200ml Night Bright Body Lotion and a 200ml Liquid Pearl Shower Gel".
Sources: Cosmetics International and The Moodie Report