New Perfume: Black Orchid by Tom Ford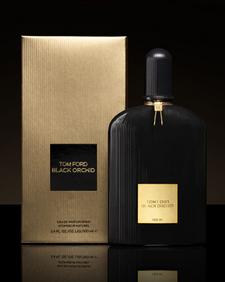 The latest fragrance by Tom Ford, Black Orchid, is now available for pre-order at Neiman Marcus. Orders are expected to ship no later than November 1st 2006.

Top notes are black truffle, ylang ylang, bergamot and blackcurrant. Heart notes are mysteriously said to be composed of "...dark, tempting Florals and rich Fruit Accords. The heart is deepened with the intoxicating Lotus Wood"; apparently this is where the secret ingredients lie. Base notes are described as being composed of "...Patchouli, Incense and Vetiver. Vanilla Tears add a fluid creaminess to warm Balsam and smooth Sandalwood"...
It all sounds terribly tempting; I am especially attracted to the black truffle, "dark tempting florals", including the much-researched black orchid we can assume, and lotus wood. The 30s-40s atmosphere surrounding the perfume makes me envision a Hollywood vanity table with a profusion of mirrors and swan feathers, casting its disquieting shadows and reflections in a noir movie, be it L.A. Confidential, The Blue Dahlia, or Sunset Boulevard. The perfect perfume for the murderous femme fatale and perhaps even, the weapon of crime.

The parfum extract version is a limited-edition. It is contained in a "... pure black crystal bottle created exclusively for The Tom Ford Fragrance Collection by Lalique. Each signed and numbered bottle is a collector's piece and comes with a certificate of authenticity. The bottle arrives empty, accompanied by a 0.5 oz. glass vial filled with perfume and a gold funnel to pour the fragrance into the bottle. The vial is perfect for travel. A black velvet pouch completes the presentation".

Black Orchid in pure parfum concentration retails for $600. The edp retails for $90 and $135 for 50 ml and 100 ml respectively.
Source: Neiman Marcus