New Perfumes: Seductive Perfume Mist Japanese Cherry Blossom, Sensual Amber, & Warm Vanilla Sugar by Bath & Body Works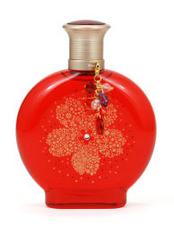 Bath & Body Works will introduce three new perfumes this fall called Seductive Perfume Mist Japanese Cherry Blossom, Sensual Amber, and Warm Vanilla Sugar in their Signature Collection. The perfumes will be available by the 10th of November 2006.

Japanese Cherry Blossom is described as "An intensely feminine interpretation of the fragrance you love, uniquely nuanced in a Perfume form. To create this strikingly original scent, our master perfumers have carefully blended intoxicating blossoms from an exotic Japanese garden with hints of Asian Pear, luscious Fuji Apple, and seductive silk musk.
Top notes: Asian Pear, Fuji Apple, Luscious Ume Plum
Mid notes: Japanese Cherry Blossom, Golden Butterfly Lily, Kyoto Rose Petals, Delicate Mimosa, Hedione
Base notes: Vanilla Rice, Imperial Amber, Silk Musk, Cinnamon Incense, Himalayan Cedarwood, Creamy Sandalwood...
Sensual Amber is described as a rich scent whose vanilla is steeped in delicious spices with sensual, dark patchouli and velvet floral absolutes.

Top: Bergamot, Wild Berries, Succulent Plum
Mid: White Rose, Orange Flower, Lotus Petals, Iris, Star Anise
Dry: Warm Amber, Creamy Sandalwood, Vanilla, Patchouli, Praline, Musk

Warm Vanilla Sugar has the following notes:
Top: Italian Bergamot, Asian Mandarin, White Jasmin Absolute, Turkish Rose Absolute
Mid: Patchouli Indonesia, Amber Brazil, Osmanthus Absolute
Dry: Heliotrope, Coconut Absolute, Sandalwood, Guaiacwood, Incense accord, Musk
They will retail for $28 for a 3.4 oz bottle. You can pre-order them now from the Bath & Body Works website.