Fragrance News: Stick Scents Home Fragrances Will Hit Drugstore Chains (with New Holiday Scents)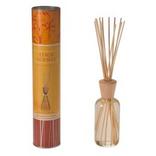 Beauty Bureau's founder, Maryann Mihalopoulos first created Xçla Aromasticks, a line of home fragrance reed diffusers after a trip she made to Greece in 2001. Seeing the opportunity of bringing her more upscale home fragrances to the mass market, Mihalopoulos introduced Stick Scents in October of 2005 with a suggested retail price point of $24.99 for an 8oz. reed diffuser. The quality of the essential oils remains the same but the packaging is less expensive...

Stick Scents™ will now launch with 3 holiday oriented fragrances – Candy Cane, Winter Forest and Holiday Spice – as well as a selection of their 6 everyday fragrances, available at the following big box chains on November 1, 2006:
Brooks/Eckerd (Drug Stores East of the Mississippi – 1,300 stores)
Bi-Lo (Carolinas, Alabama – 300 stores)
AAFES (Army Air-Force Exchange – (150 AAFES locations worldwide)
Big Y Grocery (East Coast Grocery Chain - 34 stores)
Kerr Drug (Carolinas – 100 stores)
CVS.com
Overstock.com
Borders Book Stores will also be featuring Stick Scents™ in its 500 stores starting in January 2007.
You can also find these reed diffusers on Target.com
Source: Business Wire