Perfume Review & Musings: Men's Cologne of the Week: Gucci Pour Homme (2003) by Gucci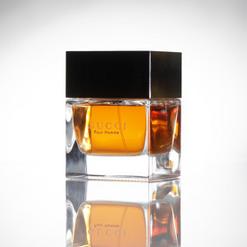 Gucci Pour Homme Eau de Toilette was created in 2003 by perfumer Michel Almairac of Robertet. As already mentioned earlier on The Scented Salamander, Almairac is also "...the author of the wonderful Burberry London for Women, Lumière by Rochas, Voleur de Roses by L'Artisan Parfumeur, Cabaret by Grès, and Minotaure by Paloma Picasso, amongst others". The perfume was composed under the creative direction of Tom Ford.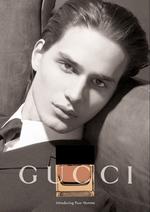 The Gucci Pour Homme referred to here, composed by Michel Almairac, and launched in 2003 is not be confused with the Gucci Pour Homme introduced in 1976 which is a chypre and was composed by nose Guy Robert. The latter is discontinued....
One of the ideas for the creation of the scent was that it would be the masculine counterpart to the feminine Gucci Eau de Parfum. Both perfumes indeed show affinities in that they reveal a very good measure of personality, are sensual and unconventional.
If you know any couples around you that fit that description you might want to offer both fragrances as a set as they are a good match for each other.
The other idea presiding over the conception of the fragrance was that it would develop a classic feel in reference to men's colognes from the 1960s and 1970s with a little old-fashioned tonality even thrown in. However, I do not find the perfume to be in any sense old-fashioned and to me, it even smells edgy and cutting-edge. It actually could be fairly easily mistaken for a niche scent.
As of 2014, this cologne is still sold as one of the Classics on gucci.com
This idea of a vintage men's perfume was further reflected in the packaging. The bottle is made of very heavy glass with a criss-cross pattern carved in the bottom of it. The flacon is clearly meant to reflect the aesthetics of male grooming sets from that period. It is also evocative, for me, of a glass of scotch whiskey.
The perfume is from the start strongly amberey with a medicinal, aromatic, and spicy character. After some time the pepper and ginger notes become more distinct. The amber is on the dry side; the adjective that comes to my mind to best describe this type of amber accord is "crackling" as the resinous Olibanum brings in a suggestion of burning crackling resin to the amber. The amber is not thick nor viscose, although it is soft enough to be mellow and sweet despite the dryness. There is also some greenness to the scent that reinforces the dry yet sweet aspect of the fragrance.
The next impression that is developed is that of a very animalic honey accord with piney and later, waxey overtones. This is followed by a very beautiful and deepening orris note which makes the perfume become powdery but in a very understated and natural way. One really has the impression of smelling orris rhizome powder straight up from the raw materials supplier's package, only sensually folded into a sophisticated, raw, rich, and warm amber. It goes on to smell of tobacco. Next it becomes smokey and later on, incensey. Soon the image of a camp fire imposes itself. There is leather but the perfume is not heavy on that note. The longer drydown develops a surprising rose accord.
Although the perfume was described as a woody spicy and leathery scent, it appears to be as much an amber scent as it is an orris scent as the woody character is present but not dominant. The combination of animalic and subtly rootey notes, including vetiver, makes for a very seductive perfume. The fragrance with its unconventional character and use of interesting contrasts of notes to convey that impression makes one think of Serge Lutens. The more so since a very animalic honey accord with beeswax overtones develops, a common occurrence in Lutens' and Sheldrake's perfumes. The similitude is further reinforced by the assertive presence of exotic spices.
Women should have no trouble sharing this scent with men despite the fact that in 2014, the brand plays it "rugged" regarding this composition saying:
Timeless elegance takes on contemporary form in Gucci Pour Homme. A luxurious mix of rare papyrus wood and exotic ginger over a rich amber base, this fragrance is at once rugged and seductive. Featuring a striking glass bottle with a solid metal cap, this scent is the essence of the modern Gucci man.
People who are looking for a light leather scent might also enjoy this perfume if they are not looking for citrus at the same time (you get ginger instead). Certainly, amber and orris fans should definitely give it a try.
Images are from Saks Fifth Avenue and parfumsdreams.de