Perfume Review & Musings: Secrète Afrique by Estéban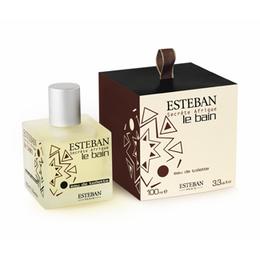 The latest release by the French niche perfume house Estéban is an olfactory pean sung to Africa and is called Secrète Afrique (Secret Africa). The perfume is available in eau de toilette concentration only together with ancillary products devoted to the ritual of bathing. Secrète Afrique is part of the collection called Le Bain (The Bath) which already includes Fraîcheur Anadalouse, Douceur Balinaise, and Sensuelle Russie and which adheres to a travel theme. Notes are very succintly described as including hesperidic notes, ginger, cedar, and patchouli. In France, the perfume retails for 30 Euros.

At first sniff, the perfume does not evoke to me Africa at all except through this purely nominal reference. My puzzlement leads me to playfully suggest that perhaps what Estéban had in mind was a colonial reference to a French bakery located somewhere in Northern Africa. There does not seem to have anything secret about it either (notwithstanding the fact that the secret is partially given out with the name of the scent). If a term comes to mind to describe the perfume, it is "cute". On closer scrutiny (upon a third application), I realize that the perfume reveals an underlying spicy and exotic character that is more deeply set in its heart...
My theory now is that Secrète Afrique is a reference to the spicy accords secretly laid at the heart of the perfume under the rather overwhelming gourmand smells of European and, in particular, French pâtisserie. Under the choux à la crème filled with crème pâtissière or alternatively, the lemon meringues, you will find an African spice market discreetly making its presence felt.

One may wonder if this is a political statement regarding our common neglected African roots or one about the economic and political resources brought to the West by the colonization of Africa. I would say that it is most certainly a fusion scent; it is indeed quite striking to see the contrast here between two different gourmand atmospheres, the European one and the African one, the latter appearing enclosed in the first and more understated.

Although Secrète Afrique is described by Estéban as a "citrus floral-ginger" which suggests a priori to me a light and somewhat aromatic perfume centered on an exotic ginger note, what it smells at first is mostly of a soft gourmand scent served with a large dollop of slightly spicy cream. The ginger is not the piquant, astringent note you would expect it to be because it is completely folded into the vanilla, sugar, and cream; until quite a bit later.

The perfume opens with a candied accord followed by both a citrusey and creamy accord that soon becomes more pronounced so much so as to evoke a vanilla cream or a rice milk pudding with lemon in it. Next, a third course of sweets is served which to me smells distinctly like a crème pâtissière. At this stage, the fragrance is very much reminiscent of Garçon Manqué by Les Filles à La Vanille which also offers a similar gourmand accord, except that here it is more hesperidic. The citrusey notes hold very well throughout the development of the perfume. Another comparison that came to my mind regarding the top accord upon a second application is Sugar Blossom by Fresh, a light-hearted take on Shalimar as I see it. Secrète Afrique by comparison would be a babyish, cuddly take on Shalimar.

The ginger note is so much covered up, not only by the sugar but by the cream, that you wonder where it is located exactly at first. It smells initially more like crystallized ginger sandwiched in between a strongly scented layer of lemon custard and a soft layer of vanilla cream. Some fruity floralcy develops later on but it is not very striking or distinctive; it actually makes me think of Bourjois Evening in Paris which I view as a very standard soft powdery fruty-floral scent.

A peach note makes a solo appearance for quite a while. There is a little bit of violet or orris thrown into the mix as it becomes more powdery. I then smell some muguet, orange blossom, traces of what could be cumin, licorice, and pepper, then later Harissa and probably some jasmine and rose too. I am reminded unexpectedly of Mandarine Mandarin but as if it were a childish gourmand rendition of it. At this later stage the perfume becomes drier and spicier and the cream recedes; the piquancy of ginger is finally able to come through. The drydown is woodsy vanillic and slightly spicy with a dominant cedar note.
Just like you would have to choose between two desserts at the bakery depending on your taste and level of hunger, one would need to discriminate between Secrète Afrique and Garçon Manqué according to the following suggested set of criteria: if you feel really hungry and need a good sugar fix go for Secrète Afrique, if you would rather have a light mousse, then go for Garçon Manqué. If you would have neither because you find both too appetizing then Hervé Leger is a good choice as it is a more sophisticated scent while preserving a very light reference to a crème pâtissière.