The 5th Sense in the News: Finalists for the German Fragrance Stars Awards 2007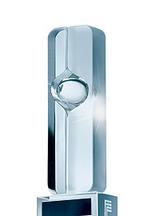 The finalists for the Duftstars 2007 for women's and men's perfumes in each of the four newly redefined categories were announced in Germany. The Duftstars are the equivalent of the US Fifi Awards. Ursula Ackermann of Perfumery Douglas said they were happy to be able to report, paraphrasing the traditional annoucement for the election of a new Pope, that they had finally come up with the nominees "Habemus Nominees".
The jury, reportedly, was particularly focused this year in a context of higher expectations while using for the first time the new competition categories designed by the Fragrance Foundation Germany. The new four categories are: Exclusiv (niche) , Prestige, Lifestyle, Klassiker. The winners will be announced in March 2007.
The crystal trophy was designed by Pierre Dinand and represents two pillars showcasing a drop.

And the list of nominees (without the Price of the Public) are...
Kategorie: Exklusiv Damen

CHINATOWN, Bond No. 9
LOVE IN WHITE, Creed
MARC JACOBS SPLASH Collection, Marc Jacobs
NARCISO RODRIGUEZ EDP, Narciso Rodriguez
YOUTH DEW AMBER NUDE, Estée Lauder

Kategorie: Exklusiv Herren

CHYPRE ROUGE, Parfums Serge Lutens
COLONIA, Acqua di Parma
CUIR AMÉTHYSTE, Armani/Prive
FERRÉ FOR MEN, Ferré
WALL STREET, Bond No. 9


Kategorie: Prestige Damen

ALLURE SENSUELLE, Chanel
EAU PARFUMÉE AU THÉ ROUGE, Bvlgari
KENZOAMOUR, Kenzo
LONDON, Burberry Fragrances
THE ONE, Dolce & Gabbana

Kategorie: Prestige Herren

EUPHORIA MEN, Calvin Klein
L'HOMME YVES SAINT LAURENT, Yves Saint Laurent
LONDON, Burberry Fragrances
PRADA MAN, Prada Parfums
TERRE D'HERMÈS, Hermès


Kategorie: Lifestyle Damen

CAT DELUXE, Naomi Campbell
CELINE DION ENCHANTING, Celine Dion
CREATE WOMAN, Puma
INTIMATELY BECKHAM WOMEN, Beckham
NEW EXPERIENCE WOMAN, Tom Tailor

Kategorie: Lifestyle Herren

CREATE MAN, Puma
EMOTION DE PIERRE CARDIN FOR MEN, Pierre Cardin
ESPRIT HORIZON MAN, Esprit
INTIMATELY BECKHAM MEN, Beckham
PURE MAN, bruno banani

Kategorie: Klassiker Damen

1000 - MILLE, Jean Patou
ALLURE, Chanel
ANGEL, Thierry Mugler Parfums
ARPÈGE, Lanvin
OPIUM, Yves Saint Laurent

Kategorie: Klassiker Herren

ACQUA DI GIÒ, Giorgio Armani
ANTAEUS, Chanel
AZZARO POUR HOMME, Azzaro Parfums
GREY FLANNEL, Geoffrey Beene
L'EAU D'ISSEY POUR HOMME, Issey Miyake
Sources: Cosmoty.de, Fragrance Foundation Deutschland and Pierre Dinand.