Parfums de Rosine in Paris & Ambre by Les Ecuadors, Where to Find Them? {Ask Marie-Helene}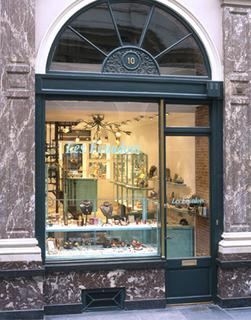 Hi-

I really enjoy your blog--I think you are doing something unique and interesting. A real pleasure to read.

I have two questions for you that may be easy for you to answer.

First, where is the Parfums de Rosine boutique in Paris; I have been told that it's in the Palais Royal, but never found it. And I have never seen the Rosines anywhere in Paris except at a Foire in the Tuileries last year, of Saveurs et Senteurs. But no one there knew where to find the Rosines in Paris either.

Also, I have been reading some of the French perfume boards, and keep seeing mention of an Amber fragrance "de chez Ecuador" and I absolutely cannot figure out what this is. Can you help?

Many many thanks,
All best
Camille
Camille, many thanks for your letter, here is my answer to your query:.....
Hi Camille,

Thank you so very much for you kind words, I really appreciate it. After some research I found the following locations have the perfumes you are looking for:

Regarding Parfums de Rosine, the address of their flagship store that I retrieved from a book and found on the internet is the following:


Parfums de Rosine
Jardin du Palais Royal
43, rue Montpensier/43 Galerie de Montpensier
75001 Paris
Métro Palais-Royal
Tel: (1) 42 60 47 58
Hours: Tue-Sat 10:30 am to 7 pm

I tried calling them a couple of times to verify their location but I either got a fax machine signal or whenever it rang normally no one answered.

I found these two other addresses in Paris:

Palais Cardinal, 43 rue de Valois (under the archway of the Palais-Royal). Their (new) tel is: 06 71 52 71 05 - No answer, so I can't confirm this address.

Parfumerie Caillau, 124 Faubourg Saint-Honoré, Paris 8ème, tél : 01 43 59 06 86

Finally an address that I could verify!They told me that they do carry the whole Parfums de Rosine line except for Rose D'Argent which is discontinued. Hours: Mon-Sat, 10 am-7pm.

You can also find the Parfums de Rosine in the vicinity of Paris at this address:

Ambiance et Senteurs, 31 rue de l'Abreuvoir, Saint-Germain-en-Laye, tel: 01 34 51 03 22, Hours: Tue-Sat 10:30 am-1pm and 2:30 pm-7pm.
Starting on Dec 10 2006, they will open on Sundays for the holidays. They too carry the whole line except for Rose D'Argent.

Regarding the amber perfume you mentioned it is called Ambre by Les Ecuadors and belongs to the perfume branch of a jewelry boutique founded by two brothers, Marino and Demetrio Fato. The perfumes were created in collaboration with their uncle Djorda. Their perfumes are sold in brick and mortar stores in Bruxelles, Anvers, and Nice.

If you are in France, the addresses in Nice are:

Paga la Mossa
1, rue de l'Hotel de ville -06300 Nice
Tél.: +(33) 4 93 85 39 42

Galeries Lafayette Massena
6, av. Jean Médecin - 06007 Nice

Galeries Lafayette Cap
3000 Av. Donatei – 06703 Saint-Laurent-du-Var

You can find more information on their site Les Ecuadors
Hope this helps!
All the best,
Marie-Helene
Sources: The Book of Perfume by Elisabeth Barillé and Catherine Laroze, Amabilia, Les Ecuadors