Orange-Colored Perfumes for a New Year {Ask Chantal-Hélène} {Paris Photo} {Perfume List}
Family Diptych I - © 2014 Chantal-Hélène Wagner
The idea for this perfume article was born not because "Orange is the New Black," a TV series I haven't watched and don't intend to, but because the color orange has seemed very attractive lately without being a core favorite color.
It turns out that orange is considered by color psychologists as signalling renewal. It is an energetic and young color. In Wikipedia, it is underlined that it shares a special connection with taste and aroma, "In Europe and America, orange is commonly associated with amusement, the unconventional, extroverts, fire, activity, danger, taste and aroma, the autumn season, and Protestantism. In Asia, it is an important symbolic colour of Buddhism and Hinduism."...
Historically in the English language, before the word "orange" was used the word "saffron" was actively used in its place. Orange-red was thus designated as "ġeolurēad (yellow-red) for reddish orange, or ġeolucrog (yellow-saffron) for yellowish orange".
Orange today evokes most easily perhaps orange juice and Vitamin C. It's a color with peps. It is the alliance of red, of its dynamism, and yellow, which is said to be a color of evolution. Hence the idea that orange heralds the end of a status quo.
On the first days of a new year therefore, spraying on some orange-colored and orange-scented perfume might be an apt choice.
Wearing the color orange in perfume form is possible thanks to synaesthetic associations. If we smell a convincing orange, mandarin or tangerine note, we will think orange-tinted thoughts; orange blossom is also an olfactory nuance which helps us evoke this vibrant color. Carrots are seldom used in perfumery and if they are, certainly not that literally except for Honoré des Prés, who have done a carrot juice perfume, I Love Les Carottes in 2010, which also exploits the affinities of carrots with orris root. A brand like Demeter could offer a carrot cake fragrance, but they haven't tackled those notes yet. Pumpkin appears more frequently in perfumery. Saffron is most often just a nuance.
Below is a list of orange-colored perfumes to kick off 2015, or any other new beginnings.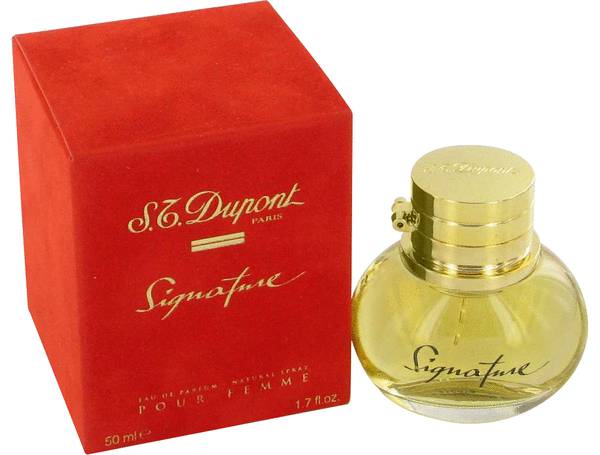 When I think of orange-colored perfumes I think first, perhaps a bit unexpectedly, of Dupont S.T. Signature pour Femme (2000). It is a little known jus but I was struck when I smelled it by its great orangey impression. It turns out to be a composition by Bertrand Duchaufour, pre-dating his intensive foray into creative, so-called "niche" perfumery as one of its most prolific authors. Even better, the nose has ackowledged once that he personally loves the scent of oranges. Do not be surprised therefore if this under-the-radar designer fragrance available still at discounters and Sears holds some joyous revelation for your senses.
I also think less logically of Robert Piguet Fracas which allies tuberose with one of its patners in perfumery crime, orange. This floral note is often paired with a citrusy, orange note so as to bring out and enliven the sultriness of tuberose which could otherwise be overly stifling and heavy. The result is that tuberose can be always colored a bit like a sunset. You can also turn to Serge Lutens Tubéreuse Criminelle for an orangey tuberose.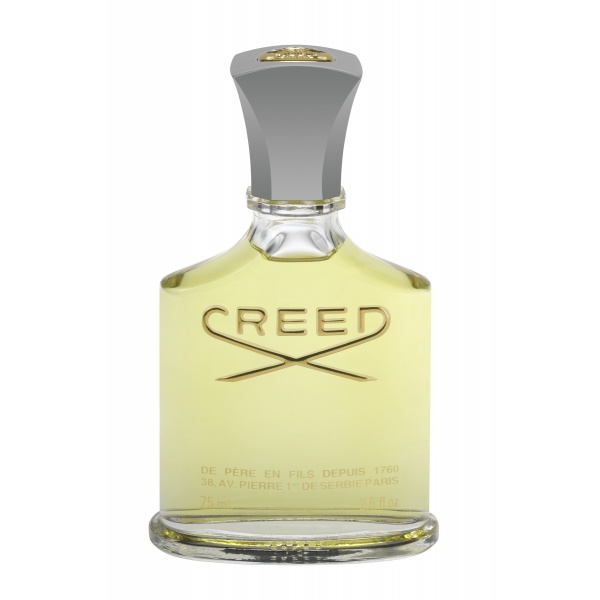 Orange Spice by Creed, is more of a Christmassy pot-pourri with that cosy smell of orange peel diffusing in the air together with other wintry, atmospheric scents which bespeak of the warmth of the hearth.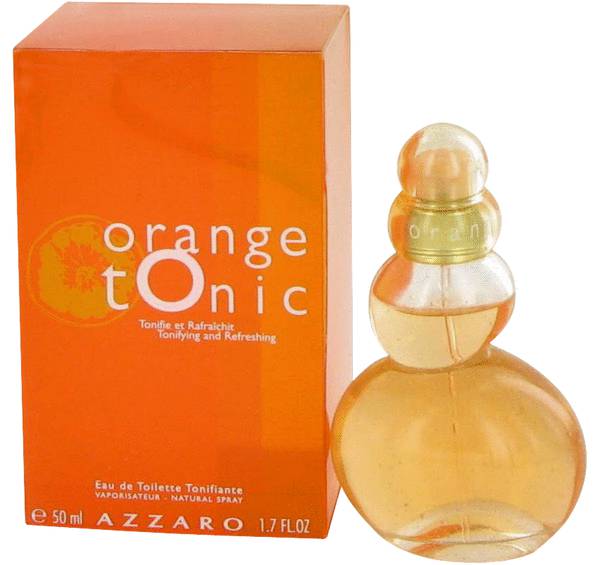 Azzaro Orange Tonic (2002) is one of those lesser known designer juices which merit your attention for its stand-out impression of an undeniably zesty orange meant to make you feel upbeat.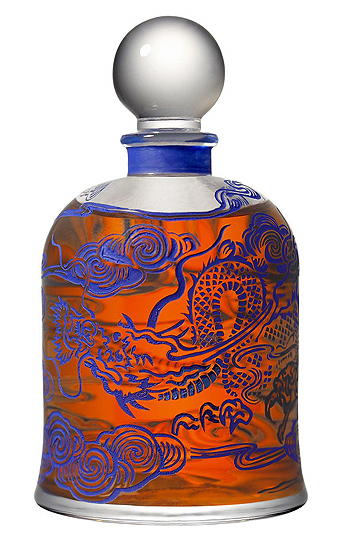 Serge Lutens Mandarine Mandarin (2006) is as its name indicates, an opus inspired by the fruit named after Chinese literatti or mandarins. The perfume is exotic and associated with ambergris.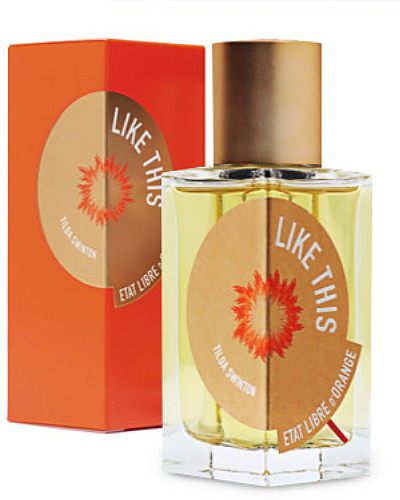 Like This by Etat Libre d'Orange (2010) is a perfume which aims "to be ginger" and borrows its orange palette from the flesh of Carotene-rich pumpkin, with a hint of cinnamon.
Hermès Eau des Merveilles in Eau de Toilette is the preferred version of this ode to ambergris as this is where the orange citrus is most present, pervading the composition.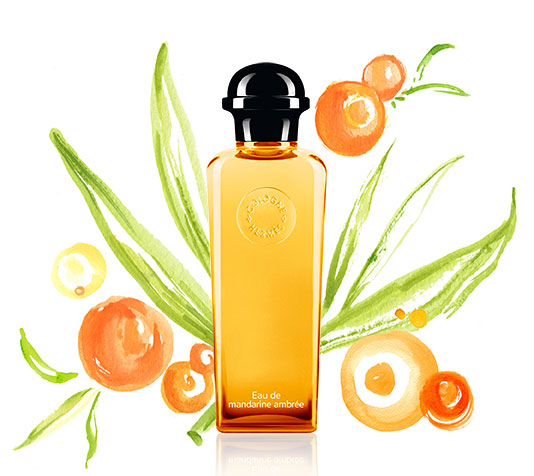 Hermès Eau de Mandarine Ambrée is another study on the pairing of a related fruit, mandarin, with an amber accord.
Cacharel Liberté takes its orange cue from the household French pastry Chamonix with its orange marmelade filling and sticky glazed brioche.
Boss Orange Man is great as an orange-inflected cologne for men. Although no orange note is listed, it does smell orangey.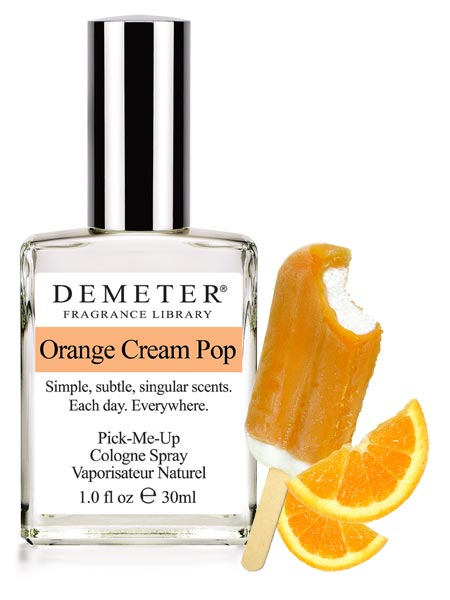 Demeter Orange Cream Pop smells as advertized except that it makes the orange-vanilla accord wearable instead of edible.

L'Artisan Parfumeur Safran Troublant is perhaps the most orange-colored saffron perfume I can think of. It's a subdued orange, closer to nude and apricot tones yet unmistakably inflected with the richly colored orange-red spice.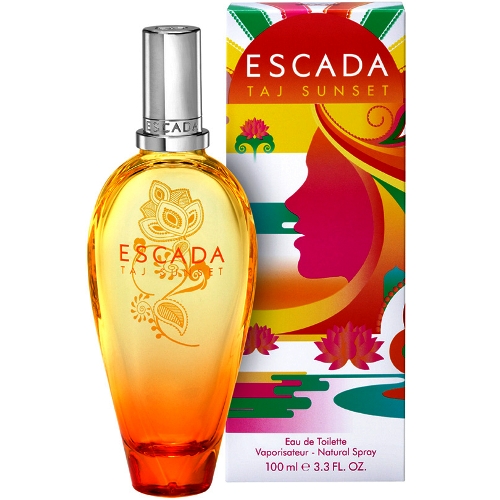 Escada Taj Sunset is a great choice for a mango galore impression of orange - it's a tonic mango lassi as dynamic as a Bollywood dance on the silver screen. Of course it's lactonic - you don't even need to ask, silly, when dealing with the brand.
Family Diptych II - © 2014 Chantal-Hélène Wagner
Orange is the color of optimism. Aromatherapists know that orange essential oil enhance your mood in a positive way. We propose that you explore this olfactory and visual option for a fresh new start.
Here's to a great start for 2015! Happy January 1st!
Pictures courtesy of the brands.