Honoré des Prés We Love New York 100% Natural Trio of Perfumes (2010) {New Fragrances} {Green Products}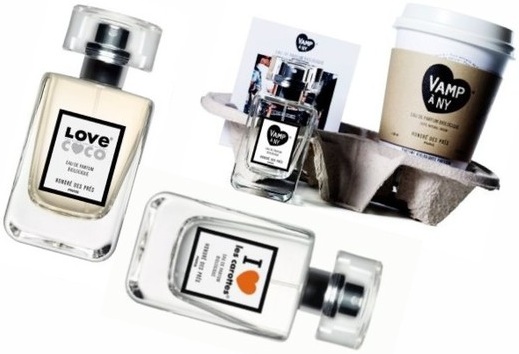 Newcomer French brand of natural perfumes
Honoré des Prés
have launched their second collection of fragrances following an initial introduction of 5 scents in 2008. Perfumer
Olivia Giacobetti
is the nose behind all these creations which want to appeal to the-back-to-nature eco-minded customers. This time it's NYC which is the source of inspiration complete with its coffee cups to go. Hmmm, you might say, what's so special about that? The idea, I guess, is that from a French standpoint, they look
so
NY, plus the packaging is eco-friendly.
We Love New York
includes three perfumes which are said to be 100% natural:
Vamp à New York
(Vamp in New York),
Love Coco
and
I Love Les Carottes
(I Love Carrots)...
Vamp à New York
is a tuberose perfume without really being a tuberose, it seems,
"Olivia has invented a flower not available anywhere. With her magic talent, she has revealed the perfume of this flower never smelt before. A tuberose, rhum, united by three magnificient and secret balms. True perfumery."
Love Coco
is an ode to coconut milk and Malaysian Hevea rubber sap,
"Love Coco - just breathe the pur extract made of a spicy delicate white coconut milk challenging a- coriander leaf. It's a liberated fragrance which underlines vegetable sap, disrupting from the basic coco olfactive form."
I Love Les Carottes
is what looks like a meditation on carrots -- wow, the advertising copy is really on steroids in the beginning. But first, the more descriptive part about the olfactory profile of this carrot scent,
"All is good in carrots! With this conforting wonder, Olivia has initiated with lots of love by cooking, freezing, cooking again carrots from organic farmers from Harlem and by crossing the crudity of the carrot juice. She is moved by this olfactory dietetic. She has written her own receipe book : blending the seeds thinned out from the carrot flower which still smells the good odour of the earth with the mild orange, the Carribean vanilla and the secretive orris butter."
So the wilder part of this text is below,
"Who's that girl? It's an inconsiderate fragrance that disconcerts and orientates towards onto girls and boys with whom one never gets bored. A raw, cult, arty and soft cocktail. Under the wish list figures out instinctive and inconsiderate girls aware of the « itcarrot » culture. The carrots echo indulgence, a sunny winter morning, natural flowing hair, a brunch in New York after an evening of excessive tension and fun."
You know what, I'm starting to see carrots everywhere at this point. The "it-carrot" culture? Check. I do use Yes to Carrots lip balm.
Each Eau de Parfum is priced at 76€, or 63€ if you order from abroad, and currently available at colette.fr (they ship internationally.)