Starlet by Lulu Beauty: For Gardenia Girls {Perfume (Short) Review}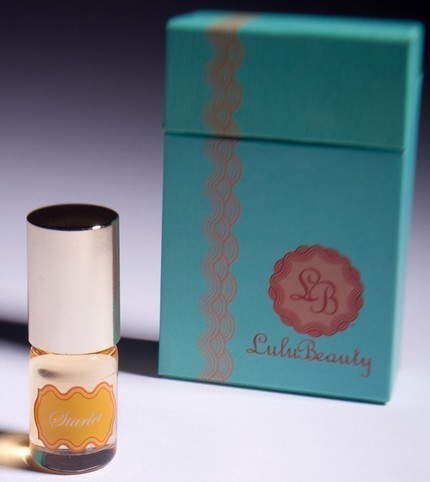 Starlet
by
Lulu Beauty
comes with two warm recommendations: it's a favorite of its creator who specializes in gardenia perfumes but also of Tori Spelling who even requested that the scent be renamed Stella to give it away to guests on her daughter's first birthday.
The fragrance is a classically lush gardenia scent with green and peppery accents and a gasoline-indolic revving-up of flower engines in the start. The perfume then sweetens down with vanilla and softens with musk while keeping a light new-rubber-glove-scent counterpoint to give it a hint of the reality of a Desperate Housewife. It's slightly woody too. The drydown plays the contrasts of honeyed and ambery with discreet horseradish nuances to allow the gardenia to keep its edge...
It's a nice one-note gardenia skin scent with enough hints of misdemeanors to make it bespeak of tropical excess but everything is kept under control and ultimately the attitude remains soft-spoken. The owner of Seattle-based Lulu Beauty who sells her perfumes on Etsy says that she loves to keep this scent in her purse. It seems perfect for a last minute touch-up to turn you into a little bit of a Southern belle when you weren't sure you wanted to be sultry that day.
There is now also a smokier and darker version of this perfume called
Dame
.
The 1/6 oz roll on perfume oil seen above is priced at $28 and the purse atomizer for the Eau de Parfum is at $15 (This review is based on the EDP version because I did not pay enough attention to the differences in concentration when I made my purchases!)
Photo credits: Starlet Colleen Townsend having her looks appraised by gossip columnist Hedda Hopper in 1948 during a publicity interview to promote the young actress © Time, Inc./ Starlet Colleen Townsend in 1948, Time, Inc.