Alba by Profumum {Perfume Short (Review)} {New Fragrance}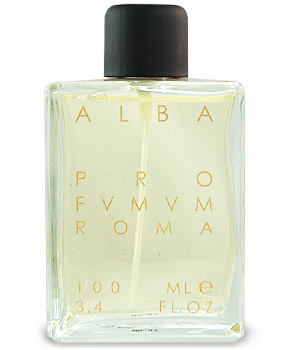 Writing this review at dawn makes one realize that
Profumum Alba
(Dawn) - one of the latest releases by the Italian house - attempts to capture the coolness of dawn, the first chilly beginnings of the day as well as the initial pristine transparency of a time that has not yet taken shape and form and which remains open to meaning. As the scent progressively warms up so does the day. The elapsing of time is one of the most fascinating elements that can be integrated into a fragrance. It plays with our metaphysical fiber, renders us more contemplative, and makes both life and perfume more precious because the transient character of things was felt more vividly, concretely, as if compressed more clearly within the more intelligible unit of the perfume.....
Alba is, more than a fresh powder scent, a cool one with its pale green aniseed undertones that are like a gentler variation of licorice. The aroma of aniseed is sweet, soft, invigorating suggesting a sort of innocence through associations with traditional candies and pastries. The perfume suggests in its initial stage the tactile sensation one experiences when touching fine talcum powder, a glacé, chilly impression to the tip of the fingers. This initial powdery musky floral and aniseed accord is closely reminiscent of Talco Delicato by I Profumi di Firenze.

As the perfume progresses and warms up, the heart becomes more amber-y albeit without taking on the usual glowing quality of amber and remaining snowy white. The notes reveal the slight metallic and marine tinges of the ambergris, the sweetness of vanilla, the soft milky fruitiness of almonds, and the unmistakable woody and fruity facets of hazelnut. The powdery heart takes on an almost flour-like quality, which together with its association with hazelnut brings to mind another perfume reference, Bois Farine by L'Artisan Parfumeur.

The dry-down is warm, soft, and subtle – close to the skin - with pleasant facets of raw flour that smell almost like wet clay while being mainly vanillic, amber-y and musky. Alba is a very soft and discreet cozy scent with enough elegance (tinge of aldehydes and a subtle reference to Chanel No 5) and maturity to it to not seem to betray openly one's nostalgia for one's childhood while making delicate allusions to it.
Notes are: sandalwood, hazel wood, almond wood, amber

You can find Alba at Luckyscent, $195 for 100 ml.