Tokyo by Kenzo {New Fragrance}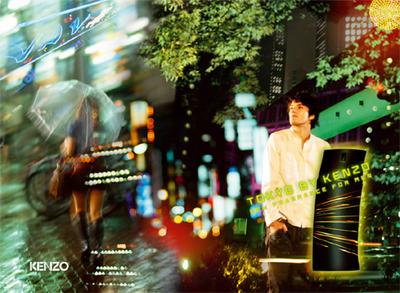 Kenzo will launch a new men's fragrance in August of 2007 named
Tokyo
. It is inspired by the streaks of colors traversing the Tokyo-by-night landscape. The perfume was composed by Marie Salamagne of Firmenich who has decided to assign certain perfume notes to certain characteristic colors to recreate the visual impressions of a young man discovering the Japanese capital city for the first time after a long trip....
The blackness of the buildings are translated into notes of nutmeg, clove, gaïac wood, and cedar wood. The bonsaïs lining the streets conjure up green notes of mate, green tea, and shiso. The reds of the electric signs and cars smell of bitter orange and pink pepper. Finally the brighter yellow lights of the street lamps are interpreted as notes of citron, grapefruit, and ginger.
The bottle reflects this colored theme as well. It was designed by Kashiwa Sato. The shape is inspired by a traditional Japanese saber. The colors on the black background appear as if seen from a car driving at great speed.
The perfume will retail from 33.30 Euros to 65 Euros. Ancillary products will include roll-on and spray-on deodorants and a hair gel.
(Source: FashionMag.fr)