Tuberose Gardenia Private Collection by Estée Lauder {Perfume Review & Musings} {New Fragrance}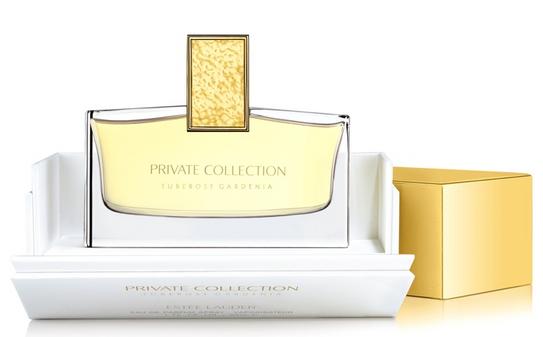 Estée Lauder Tuberose Gardenia Eau de Parfum
Perfume Review

Tuberose Gardenia Private Collection is the latest perfume launch by Estée Lauder; it was composed by perfumer Harry Fremont.

The perfume is a personal homage to the brand founder Estée Lauder, on the part of her grand-daughter Aerin Lauder, to her sense of the rare and unique; but is also a strategic move in the current market context where more and more exclusive collections of scents are being released by houses wishing to demonstrate that they can be as niche and reveal as much discriminative taste as small perfume houses specializing in the creations of fragrances made with high-quality ingredients...
In the Estée Lauder context, one might also see this as going back to the roots of the company's history, as well as constituting a subtle reminder that the Estée Lauder brand is not following but leading this trend as the "Private Collection" concept came about long before either Tom Ford's Private Blend or Armani Privé saw the light of day...
Behind the exclusive marketing concept that started with the rarer Chanel Rue Cambon collection in the 1920s, there is an even more ancient history, that of a trickle-down phenomenon that has seen perfumes made for members of the establishment become available to the wider public overtime.
Floris now proposes its Special 127, originally created for Russia's Grand Duke Orloff; Penhaligon's created Blenheim Bouquet in 1902, initially for the Dukes of Marlborough; Givenchy is another noteworthy example, with its public release of L'Interdit in 1957 - a perfume made originally for Audrey Hepburn's private usage, which was in the end deemed too good not to be marketed; a democratic proposition to which Hepburn famously reacted by saying "Je vous l'interdis!" I forbid you! More recently, Parfums de Nicolaï marketed La Vie de Château, a scent that was commissioned by the Count of Cheverny.

A similar process has also taken place with the original Private Collection by Estée Lauder officially launched in 1973. It was first only worn by Estée herself, then by a few close friends, like Princess Grace of Monaco, and then finally made it to the public when its obvious appeal became all but impossible to ignore - and to be doing so would have seemed to be going against the grain.
The interesting part is that although Private Collection eau de parfum is now to be enjoyed by everyone who wishes to do so, it is still one of the less popular mass-marketed Estée Lauder perfumes, as if natural selection had intervened somehow to send a signal to prospective wearers that not everyone in truth could feel comfortable wearing it. To this day and despite its reasonable price point Private Collection the original perfume, in keeping with the Estée Lauder brand motto of "affordable luxury" with equal emphasis on both terms, continues to smell of riches and privilege in an unmistakable fashion.

Tuberose-Gardenia rekindles the exclusive tradition of Estée Lauder, but contrary to its predecessor is made for and immediately available to the public. It is conceptually linked to the original Private Collection, if not on the olfactory plane, except - and this idea came to us a week later so we are probably over-thinking it - for its green and citrus-y facets and a certain luminous golden quality. Tuberose-Gardenia was reportedly created using Estée's favorite flowers, while taking into account Aerin's own predilection for tuberose and gardenia, the latter which she tucked in her hair on her wedding day.

The new Private Collection perfume - a lush, yet well-tailored white floral - exudes polish and femininity, while not being entirely devoid of carnality, as is to be expected with the showcasing of tropical tuberose allied with gardenia. The scent however was explicitly designed to be polite and versatile and it manages to be so without sacrificing personality and sensuality in the process. It is like a natural spontaneous woman enveloped in a cloak of good will and courtesy.
The perfume was directly inspired by nature according to Estée Lauder,
"The Nature Intact Soft Extraction Technology used in the creation of this fragrance is the closest way modern perfumery can capture an actual flower in a bottle."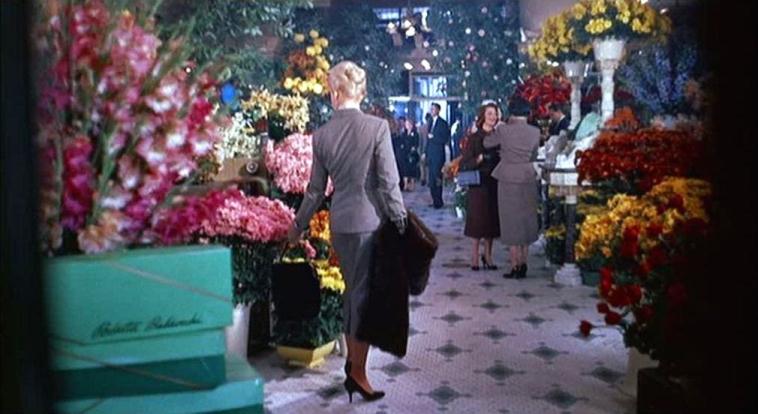 A Still from the movie Vertigo by Hitchcock (1958) - Madeleine, played by actress Kim Novak, in the flower shop
Despite its sappy naturalness, Tuberose-Gardenia Private Collection is an impeccably elegant, stylized rendition of a notoriously potent bloom, tuberose, that more often than not is traditionally associated with danger and excess. Here, the flower gives out a hint of this natural propensity, but it has become the scent of a sophisticated Hitchcockian heroine in the introductory part of the movie Vertigo, where we see her evolving in a manor, or a privileged quarter of the city, before the storm explodes and the turmoil of her psyche becomes apparent.
Tuberose-Gardenia in this manner is like a Hitchcock movie set, with all its sophistication - but without the crime. It is like the scene in which Madeleine enters the best florist shop in San Francisco in Vertigo and it ideally stops there. It refers to the ideal moment of a wedding day. It is immediately redemptive and safe. A "criminal tuberose" in the likeness of some of its more unwieldy sisters, it is not.

What seduced us most ultimately was a "surprise du parfum" in the midst of the scent, a delicious teasing of the nose by a silken carnation allied with citrus and vanilla, which signs off the scent in a refined and unexpected way.

The perfume opens on a top note of neroli further freshened up by lilac and rounded off by rosewood. The initial accord quickly segues into the densely sensual heart of tuberose and gardenia made richer by very natural jasmine accents - and also white lily. The feat here is to have succeeded in making the natural leathery, rubbery and narcotic facets of tuberose, and the headiness of gardenia appear at their most authentic without making them - logically it would be in principle - persistent and heavy. The fragrance remains luminous - with a hint of fruitiness thanks to the orange flower - and fresh.
The tuberose is domesticated by the gentler flowers surrounding it. But the most refined sensation is yet to come as the heart prolongs itself into a trail of sophistication thanks to a subtle use and rendering of carnation paired with bergamot and subtly sensual and metallic ambergris.
The very understated powdery and peppery teasing of the carnation is irresistible. This accord takes on an almost gourmand, delicious quality evoking finely sifted confectioner's sugar as in "the finest grade of vanilla Bourbon" delicately powders the bouquet, together with the carnation.
The carnation, to our nose, brings an element of timelessness to the scent and a sort of secret quote of something familiar, yet not often experienced these days. The complexity of the scent is understated. Longevity is very good, with the citrus-y and green and grassy facets being persistent.
A woman with great charisma approached, signaling potential danger, but now one can only see her shoulders as she walks past you in her evening gown leaving a complex trail of bergamot, tuberose, gardenia, carnation, and green notes.
Top notes are neroli, lilac, rosewood. Heart notes are tuberose, gardenia, orange flower, jasmine, white lily. Base notes are carnation and Vanilla Bourbon.

The bottle for the eau de parfum is, like the perfume itself, sleek and elegant. Paloma Picasso once said regarding luxury design that it had to be weighty, hefty; the hammered cap certainly feels this way while the lines of the flacon, as it rests on a table top, are very pleasing and elegant to the eye.
Tuberose Gardenia Parfum
The bottle, a combination of modern sculptured glass offset by a golden cap, symbolizes the strength of today's modern woman. The Parfum Spray cap is encrusted with assorted semi-precious gemstones, in soft blues, greens and yellows, inspired by a Josef Hoffmann brooch displayed in Manhattan's Neue Gallerie. The cap of the Eau de Parfum is hammered gold, reminiscent of a matching bracelet and necklace given to Aerin as a gift by her grandmother. Even the outer carton with its white backdrop and golden foil cover speaks to this understated luxury aesthetic.

Private Collection Tuberose Gardenia launches in North America at Bergdorf Goodman, Holt Renfrew, Saks Fifth Avenue and Neiman Marcus beginning August 2007. International launches begin September 2007."

Tuberose Gardenia is a permanent addition to the Estée Lauder fragrance portfolio.
(Sources: Estée Lauder press release, Women's Wear Daily)