10 Most Expensive Desserts in the World & New Ambregris Dessert by Pierre Hermé {Fragrant Recipes} {Fragrances News}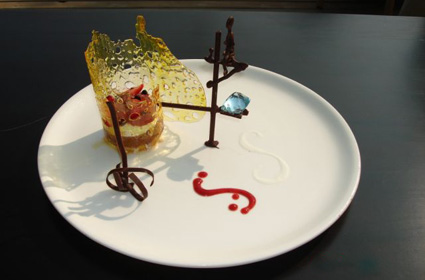 Forbes has featured a selection of the 10 most expensive desserts in the world. The winner is
The Fortress Aquamarine
which combines love of food and jewelry; its price at $14 500 is mostly justified by the aquamarine stone that decorates the dessert-sculpture. You also have to fly to Sri Lanka to have a taste of.....luxury? But the best desserts for a perfumista might be these two......

The second most expensive one might be a particularly inspirational one for a perfumista (see atomizer), the Brownie Extraordinaire with Saint Louis, priced at $1000,

The priciest selection off the restaurant's three-part Crystal Menu (each of which begins with an amuse sucrée, followed by the featured dessert and ending with petit fours), the Brownie Extraordinaire comes with a Saint Louis crystal atomizer, a $750 keepsake filled with a shot of rare 1996 Quinta do Noval Nacional port wine to be sprayed into the mouth between each bite of hazelnut-coated brownie.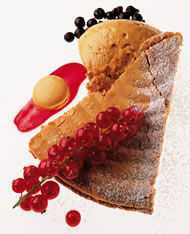 Pierre Hermé's incorporation of ambregris in a dessert called Infini from his Entre series whose first intallment started in March 2007 is also very much worth experiencing. Infini will be available from November 2007. If this seems like an easy recipe, it is not. Reportedly, it took him 3 years to come up with a satisfactory solution for the amber. It is Ranked 7th in terms of price, at $176,
Or Infini, which introduces a 20-ingredient gastronomic interpretation of ambergris, a scent traditionally used in perfume. A new series of four "emotions to share," each dessert (which feeds six to eight people) is available on a made-to-order basis, and only from Monsieur Herme's two patisseries in Paris.

(Sources: Forbes Travel, Le Point)