Borsalino Panama by Borsalino {New Perfume - Cologne}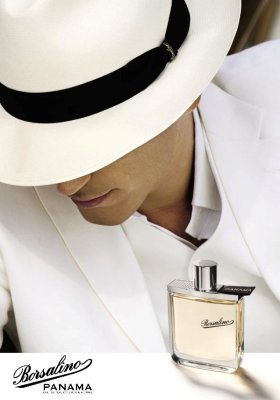 The famous Italian hatter
Borsalino
, established 1857, has launched a new men's cologne called
Borsalino Panama
. The perfumer who created the cologne is Enrico Scartezzini of M & M Fragrances, Milano. Accademia del Profumo describes it as a fresh aromatic woody amber while its distributor, Mavie Spa, says that is green, floral, and woody......
Top notes are: Basil, Saffron, Orange, Bergamot, Violet leaf; Middle notes are: Nutmeg, Glove, Ginger, Jasmine, Aquatic accord; Bottom notes are: Cashmere wood, Tobacco, Patchouly, Grey amber, Vetyver, White musk.
According to the ad copy,
"Top notes are fresh and aromatic, with Orange Florida accords, Bergamot Calabria, Egyptian Basil Absolute and with Saffron Essence. The fascinating floral notes of the heart belong to the Egyptian Jasmine giving elegance to the spicy nuances of Cloves, Ginger and Nutmeg. Patchouly, Grey Amber, Virginia Tabac Absolute and Cashmere Wood accents give to the fragrance a precious character."
The Eau de Toilette retails for 38 and 48 Euros. More ancillary products are available.

(Sources: Accademia del Profumo, Mavive Spa)