Les Sept Parfums Capitaux: Hespéridé, Fougère, Chypre, Marine, Poudré, Oriental, Boisé by Jovoy Paris {New Perfumes} {Scented Image}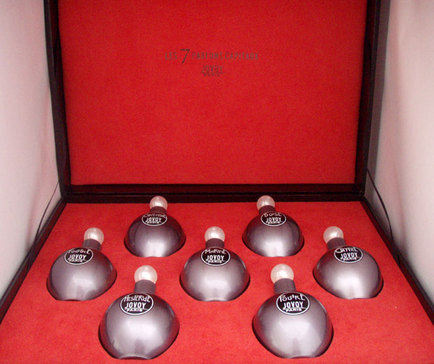 Les Sept Parfums Capitaux by Jovoy
Jovoy
Paris
, a Parisian perfume house from the Roaring Twenties that has recently been resurrected by a trio that includes a sister, brother, and a cousin: François Henin, Henri de Pierrefeu, and Marie-Laure de Rodellec, has launched a series of 7 perfumes called
Les Sept Parfums Capitaux
in a humorous reference to the Seven Deadly Sins. It also means "the seven very important perfumes" as "capital" in French means "very important" or "critical".
Jovoy was initially founded by a woman, Blanche Arvoy in 1923, and lasted into the 1960s then experienced an eclipse although it met with great success in the US in the post World War II period under a different brand name, Corday, in particular with its set of 3 fragrances called Tzigane, Jet, and Fame that were available in samples put together in the shape of a street gas lamp as found on the rue de la Paix in Paris where the Jovoy headquarters were........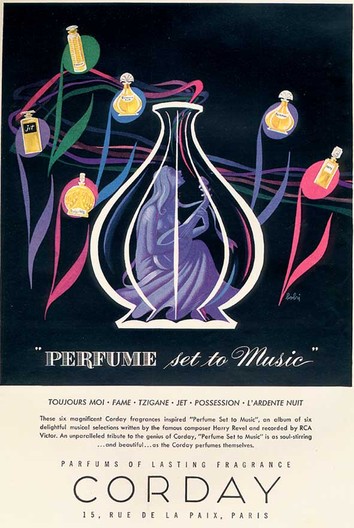 A 1949 advert for "Perfume set to Music" a collection of musical pieces by musician Harry Revel inspired by the Jovoy/Corday perfumes. (from The Scented Salamander collection)

In 1936 a British musician, Harry Revel, was so seduced by the scent of a Jovoy perfume on a woman he met at the Hôtel Georges V in Paris, Toujours Moi, that he ended up meeting its creator Blanche Arvoy and becoming friends with her. He then composed music inspired by the perfumes called "Perfumes Set To Music". It was recorded Dr. J. Hoffman and is still available: Dr. Samuel J Hoffman and The Theremin
Today, seven perfumes are offered either individually or in a coffret. Each flacon is manufactured following the technique of the perlinette, that is that the surface of the bottle evokes that of a Tahitian black pearl and has the property to see its color evolve along the day.
The collection includes, from the lightest perfume to the heaviest, 7 scents that each embodies a classic family of perfumes: Hespéridé, Fougère, Chypre, Marine, Poudré, Oriental, and Boisé.
Hespéridé (Hesperidic) was composed by perfumer Daniel Molière and has top notes of citron, bergamote, mandarin. Heart notes of jasmine, violet, and cedarwood. Base notes are vetiver and white musk.
Jérôme Epinette created Fougère (Fern). It has top notes of basilic and lime. Heart notes are pineaple, geranium, neroli. Base notes are sandalwood, Tonka bean, and oakmoss.
Amandine Marie is the author of Chypre. Top notes are rose and peony. Heart notes are jasmine, muguet, honey. Base notes are amber, vetiver, patchouli.
The less classic marine family is also honored with Marine composed by Richard Ibanez. Top notes are pepper, pear, grapefruit. Heart notes are apple and honeydew melon. Base notes are cedarwood and musk.
Poudré (Powdery) was composed by Jérôme Epinette too. Top notes are mimosa, almond, and violet. Heart notes are orris and rose. Base notes are vanilla and cedarwood.
Amandine Marie also created Oriental. Top notes are pink peppercorn and bergamote. Heart notes are peach and rose. Base notes are vanilla, cedarwood, and amber.
She also took care of the heaviest of the fragrances offered, Boisé (Woody). Top notes are freesia and cumin. Heart notes are red cedar and violet. Base notes are sandalwood, musk, and rosewood.
(Sources: Jovoy Paris press release, Salon Divinessence, Cosmétique Mag, The Scented Salamander)