Eau de Protection pour Rossy De Palma by Etat Libre d'Orange {New Perfume} {Scented Paths & Fragrant Addresses}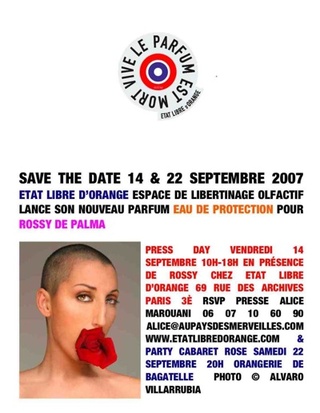 Etat Libre d'Orange
is preparing to launch a new perfume this Saturday September 22 2007 and this time it is inspired by a celebrity, Spanish actress Rossy de Palma. The jus is called
Eau de Protection
in reference to its attributed talismanic properties. Rossy de Palma who is perhaps best known for her role in Almodovar's film, Women on the verge of a nervous breakdown, has also recently been behind the camera for a creative publicity movie for Aignier done in the French new wave style.........
Now Rossy de Palma is explaining that she wanted to get away from limiting concepts of seduction for her fragrance, which are too often found in feminine perfumes these days. Her idea revolves around the concept of a perfume-talisman based on a "rose-fetish whose thorns are linked to our blood (Christian imagery?), our internal memory". The Movida actress characterizes her perfume as being an "organic" one taking root in the earth and the dragon that symbolizes it is supposed to be like an echo of our inner monsters whom we have to face,
"Pour cette fragrance, j'ai souhaité m'éloigner de tous les concepts de séduction, généralement liés aux parfums féminins, que je trouve trop limités", détaille Rossy De Palma, qui a préféré "travailler sur l'idée d'un talisman de protection, un fétiche à base de rose dont les épines sont liées au sang, notre mémoire intérieure", dit-elle. Sa fragrance, qu'elle qualifie "d'organique", prend sa racine dans la terre et le dragon qui la symbolise fait écho "à nos monstres intérieurs auxquels il faut faire face", poursuit-elle, manifestement inspirée.

The perfume was created over a 6 month period by the tandem of perfumers Antoine Lie and Antoine Maisondieu. The scents includes notes of rose, geranium, ginger, and cardamon that reportedly evoke the piquancy of the actress' personality well.
The Mairie de Paris is organizing a public launch party on Saturday night at the Orangerie of Bagatelle as part of the festival commemorating the centenary of the rose. Rossy de Palma and Fabrice Air will be on stage.
(Sources: Le Nouvel Obs, Beauté-Test)