A New Perfume Label is Born: Rebel Ambush, Utopian, Frankfurt Kitchen by Social Creatures {New Perfumes} {Spotlight on a Brand}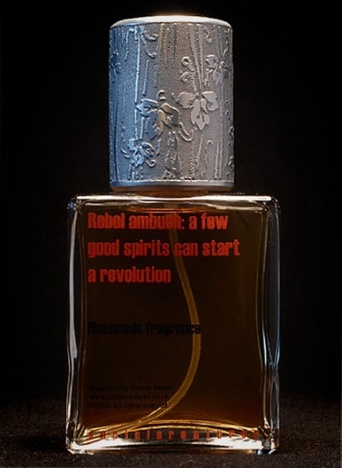 Rebel Ambush Eau de Toilette, 100 ml, £140 or US $ 286.75

Social Creatures is a new England-based indie perfume label founded by Russel Newell and operated with the help of family and friends, all endowed with artistic talents. The brand wants to express in perfumes art concepts and ethical concerns about the world of the 21st century,
"I am an optimist and hopeful about the future. I believe that human beings have an immense capacity to do good. My scents are designed to be a reminder of this to those who wear or come into contact with them. Scent is something that is both very personal to the wearer yet shared with others." - Russell Newell. ......

Utopian Eau de Toilette, 100 ml, £140 or US $ 286.75

Social Creatures already issued two men's fragrances called Rebel Ambush and Utopian. A women's perfume named Frankfurt Kitchen is set to debut in December of 2007.
The perfumes are all handmade and typically produced in limited-edition batches of 100 fragrances. The flacons are carefully designed and look art objects.
Rebel Ambush " is an earthy reminder that the struggle for freedom can be won against overwhelming odds. It is a masculine fragrance that brings to mind a small rebel army sitting around a campfire. They are talking of the day. The earthy smell of the fresh forest, smoke rising from the campfire, and the intoxicating aroma of night blooms. The scent includes notes of lavender, tobacco, vanilla, sandalwood, champaca, sweet orange and cardamom."
Utopian "is a fresh masculine scent with a modern edge. It builds on traditional themes with fresh, herbaceous top notes of Myrtle, Lavender and Bergamot. These open up to the rare and precious Orris which, combined with the spiciness of Carnation, provides an intriguing quality and character. The rich powdery dry-down finally reveals notes of Cognac, Tonka, and Frankincense. Utopian is the first scent developed by SocialCreatures for Real Real Genuine."
Frankfurt Kitchen is inspired by the progressist kitchen designed by Margarete Schütte-Lihotzky in 1926,

"Frankfurt Kitchen scent is a rich gourmand mixture - both sexy and mouthwatering at the same. The scent is a rich fruity, ambery mix of resins, peppermint, coffee and osmanthus (a beautiful chinese flower often used to make tea with subtle fruity notes similar to apricot and plum)."

You can visit their website, which is both gorgeous and informative, here. Samples are available for testing.