Adventure by Davidoff: More Info {New Cologne} {Celebrity Fragrance}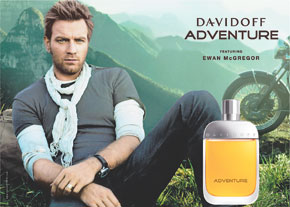 The new men's cologne by
Davidoff
,
Adventure
, whose face is actor
Ewan McGregor
(Trainspotting, Moulin Rouge, Star Wars, Down with Love), will be released in February of 2008 worldwide except in the USA where it is going to be launched in the fall of 2008. The advert for the cologne was shot in Brazil by Steven Klein.......
"Givaudan perfumer Antoine Lie said he was inspired by untamed nature when blending Adventure's fresh spicy woody juice.

"For me, it was obvious it had to be a mix of very lush freshness combined with spices and creamy woods," he said.

The scent's top notes comprise mandarin, lemon, bergamot, maté leaves and black pepper. Heart notes include black sesame and South American pimiento. Peruvian cedarwood, vetiver and white musks form its dry-down.

The eau de toilette will be available as 50- and 100-ml. sprays priced at 44 euros and 58 euros, respectively, or $63 and $83 at current exchange. Its ancillary line will include a 100-ml. aftershave splash for 40 euros, or $57; a 200-ml. hair and body shampoo for 22 euros, or $31.50; a 100-ml. aftershave balm for 32 euros, or $46, and a 75-ml. deodorant stick for 21 euros, or $30."
You can glean some more details from our previous announcement here.
After Long Way Round (2004), Long Way Down will be showing on the BBC starting on October 28th 2007.

(Source: Women's Wear Daily)