Gucci by Gucci (2007) {Perfume Short (Review)} {New Fragrance}
The Reception by Frederick John Lewis, 1873
Both modern chypres and rose perfumes are very au courant this season and the new Gucci Eau de Parfum harnesses these two trends in a subtle and elegant manner.
Frida Giannini, the new artistic director at Gucci wanted to create a fragrance meant for a strong and feminine woman. The idea of feminine strength is revealed here by perfumer Ilia Ermenidis in a very restrained fashion creating an impression comparable to the effect that gliding water can have on the hardest of rocks overtime. Like that fluid force, Gucci Eau de Parfum is easy to wear and one wants to drink from it as easily as from a glass of water........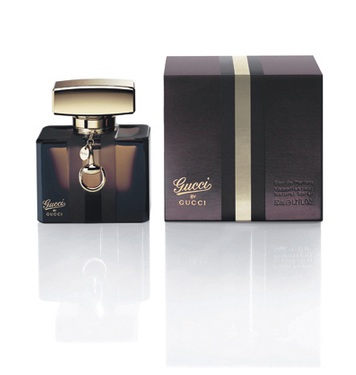 Its charm is unmistakable, yet understated. The femininity of the fragrance is undeniable, perceptible in the softness - even more than that - the tenderness of the rosy petals that seem to want to caress your skin. The fruity notes add freshness and a touch of discreet playfulness.

It is a classical fragrance with a modern up-to-date edge. The style can be perceived as classic as it is all about restraint and discretion and it is at the same time modern as it plays with a light semi-transparent rose and patchouli chypre accord that is becoming familiar.

The classic reference is felt also in the longer dry-down of the perfume, which then lets exhale the amber glow of the fragrance, one that is reminiscent of the delicious quality of the floral amber in Chanel No. 5. As it so happens, Frida Giannini said regarding Gucci by Gucci that "What I want out of this fragrance is that it becomes a classic and that it has a long life. I want it to be like a Chanel No. 5 - OK, that's a grand dream, but it's better to think big,"

If the perfume charms you it will be due to certain nuances rather than to the discovery of a shockingly new accord. These nuances are a fresh rose with hesperidic accents as in Stella, the sweetness of the creamy rose and vanilla being counterbalanced by perky citrusy and fruity notes. All the effects are elegant, balanced, and subtle. The patchouli has the finesse and intricacy of a harem's window. The dry-down is at first musky but later more ambery too. There is indeed a touch of Chanel No. 5 in it and of its conception of restrained elegance. The perfume feels like an exquisite floral mist gently wrapping your arms as you walked past a marble fountain and it scented you. It is also discreetly sensual in its evocation of the texture of a diaphanous organza wrap. It needs to be reapplied periodically more in the European fashion than the American one, but it is a pleasure to do so and it never gets over-applied.

The flacon is very heavy and this conveys a sure sense of luxury. It is a gorgeous perfume flacon. Frida Giannini explained that she researched antique French and English bottles from the 1930s and 1940s to produce this one. A duality may be revealed in the forms of the bottle of perfume, which is a mix of masculine angular lines and feminine ornateness with its golden charms, one of them equestrian, dangling down from the neck of the flacon like the jewelry of a lascivious odalisque.
The commercial filmed by David Lynch also makes references to both the masculine angular aesthetics of Art Deco and the feminine sensuality of women evolving in a gilded cage.
The three models chosen to represent different facets of the Gucci woman are Raquel Zimmerman, Natasha Poly and Freja Beha Erichsen. You can also watch a behind-the-scenes video.
A more intense version of this light chypre will be released in the next couple of months.

Top notes of guava, raspberry and pear; Middle notes of Tahitian Tiare flower, orange blossom and spider lily; Base notes are patchouli, honey and musk.

(Sources: Orientalistart.net, Gucci press release, Women's Wear Daily)