Siwa, Lalibela, Sundance, & Inlé in Les Echappées collection by Memo {New Perfumes} {Spotlight on a Brand}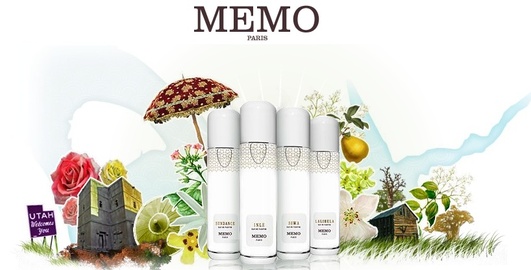 Siwa, Lalibela, Sundance, Inlé, each 50 ml flacon, 80 € or US $113.80

A new Parisian niche perfumery called Memo will open its doors on November 15 2007, rue des Saint-Pères, Paris 6ème, Tel: 01-42-22-96-63. Its founder is Clara Molloy who wanted to create a line dedicated to translating very special travel places into perfumes. For so doing she recruited the talents of perfumer Aliénor Massenet of IFF (Viktor & Rolf Antidote, with Pierre Wargnye). Four perfumes called Siwa, Lalibela, Sundance, and Inlé are the results of this collaboration........

Clara Molloy says that "each one of them evokes a place that is isolated from the rest of the world, a landscape that one needs to deserve, with something mystical about it." (Elles évoquent chacune un lieu coupé du monde, un paysage qui se mérite, avec quelque chose de mystique.)
Siwa named after an oasis in the Egyptian desert is described as a floral vanilla scent, that is as enveloping as a down comforter. It includes notes of cinnamon leaves, whiskey, narcissus, musk, and popcorn.

Lalibela evokes a Christian place of pilgrimage in Ethiopia with its notes of incensey rose, jasmine, peony, patchouli, coco, patchouli, cistus, vanilla, and woods.
Sundance is named after, well, Sundance in the state of Utah and features a tuberose softened by pear.
Inlé is an osmanthus and tea fragrance savored on a Burmese lake.
There will be another women's fragrance in the spring of 2008. A bath & body line, candles, lingerie sachets are to follow.
The perfumes will be available on the site of Memo, at the Bon Marché in Paris, and at Harvey Nichols in London.
A book by either Clara Molloy or Aliénor Massenet (information is unclear) entitled 22 parfumeurs en création at Les Editions Pirate is expected by the end of the year.
(Sources: Obstyles, Au Féminin, Memo)
Dear Readers,
What is your very special part of the world that you would like to see translated into a perfume?
For me, the first place that comes to mind are the magical lakes of Srinagar in Kashmir with their cedar wood boat houses and then I think of misty fairy-tale like Edinburgh and the wild Scottish marshland and glen. Both times, it is very early in the morning.