Ladies & Gentlemen's Seasonal Miniature Fragrance Collections by Penhaligon's {Holiday Shopping Ideas & Tips - $50 or Less} -Update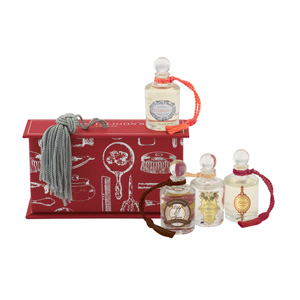 Penhaligon's
are once more offering their very popular sets of delicately packaged miniature perfume collections for the Holidays, both for ladies and gents. The perfumes come in their trademark apothecary bottles in 5 ml sizes adorned with tassels and in a festive red coffret decorated with images of traditional grooming objects.......
Both coffrets offer a selection of four popular or classic perfumes from the house. The ladies' selection includes Malabah, Lily and Spice, Ellenisia and Artemisia. The gentleman's one features Blenheim Bouquet, Quercus, Opus 1870 and Endymion.
A great sampler gift for teenagers, curious aesthets or collectors.
These sets usually sell out rather quickly. Available for $50 each here and here.
Update: Aedes now carries them for $50 each. Complimentary shipping until Dec 5:
"*Receive complimentary Fedex Ground shipping for your Aedes order by entering the code "Holiday" in the comment box when checking out. Please note that the code "Holiday" must be entered in order to receive complimentary shipping. This offer is good for any Aedes order starting at $50 and is valid until December 05, 2007. (The amount including the shipping will show up on your confirmation e-mail but will be adjusted when we process your order)."