Terre de Sarment, Esprit de Fleurs, Caravelle Epicée, & Passion Boisée by Pierre Frapin {New Perfumes}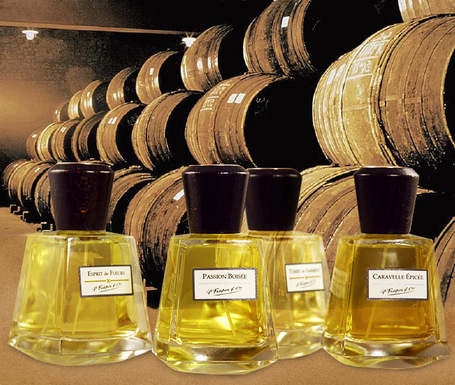 A 100 ml flacon of Eau de Parfum, $140, samples available for $3 each

Frapin, which is a multi-secular family of Cognac makers related to16th century writer François Rabelais continues its incursion in the world of fragrances to be worn as opposed to tasted with a collection of four new perfumes called Terre de Sarment, Esprit de Fleurs, Caravelle Epicée, and Passion Boisée.
This quatuor comes after an initial personal fragrance, 1270, named after the year of the establishment of the family in the Cognac country. The perfumes are created by or at least together with Béatrice Cointreau, the great grand-daughter of Pierre Frapin the creator of the Cointreau estate, who was trained at ISIPCA, and is also the CEO of Cognac Frapin and Champagne Gosset......

Reportedly, her own father used to call her a "nose" even before she started creating fragrances and was just enraptured by the aromas found on the Frapin estate.
Terre de Sarment has notes of grapefruit, neroli, cumin, cinnamon, nutmeg, orange blossom, incense, benzoin, tobacco, vanilla....
Esprit de Fleurs offers notes of Bergamot. tangerine, grapefruit, basil, pepper, pink berries, orris, jasmine, rose, vanilla, cedar, vetiver......
Caravelle Epicée features notes of Coriander, nutmeg, hot pepper, pepper, thyme, Gaiac wood, patchouli, amber, tobacco, sandalwood.....
Passion Boisée includes notes of Tangerine, nutmeg, rum, oak moss, clove, leather, patchouli, cedarwood......
You can purchase and sample these fragrances at Luckyscent