Miele Rosa, Muschio Bello, Tierra di Sienna, Magnifico 9: Peperoncino, & O-Piu by I Profumi Di Firenze {New Perfumes}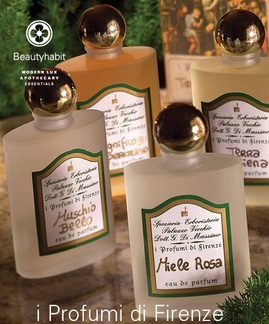 A 50 ml flacon is available between $89 and $98 - sample programs available too

I Profumi di Firenze
is a Florentine perfume house, which was established in 1966 after the
infamous flood that affected the city
allowed Dr. Giovanni di Massimo to recover a long-forgotten 16th century manuscript filled with antique recipes in the basement of his old apothecary shop. This fall they offer a series of new perfumes, some exclusive to the stores that carry them. The new offerings are
Miele Rosa, Muschio Bello, Tierra di Sienna, Magnifico 9: Peperoncino
, and
O-Piu
.......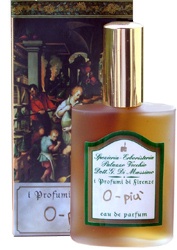 Miele Rosa is a Limited Edition, "inspired by the bathing rituals of the ancients. Arresting top notes of wild honey from Sicily deliver an incense counterpoint to the mythic Damascus rose."
Muschio Bello is "A mystical blend of white flowers, aromatic orientals and spices of the East. This "Beautiful Musk" includes sensual notes of amber, incense and jasmine with a whisper of patchouli and coriander."
Tierra di Sienna is a unisex scent exclusive to Beauty Habit and it "captures the magic of Sienna with top notes of bergamot and mint; heart notes of Florentine lavender, cumin, cinnamon, orange blossom and a seductive woody finale of sandalwood, cedar, tonka bean and vanilla."
Magnifico 9: Peperoncino is also unisex and exclusive to Beauty Habit: "This spicy, passionate and unisex regal fragrance resonates with cayenne, pepper, cardamom, clove, basil, neroli, black violet, Italian cypress and Himalayan musk � it will heat you both up all winter!"
O-Piu is described as an oriental and is exclusive to Luscious Cargo: "O-Piu opens with citrus notes of bitter orange, bergamot from Calabria and Sicilian Lemon. The heart of this gem is chockablock with flowers and spice: Damascus rose, lavender, Lily of the Valley, coriander, jasmine, orange blossom, ylang-ylang, white and black pepper, nutmeg, geranium and, blessedly, carnation.

This bold and breezily confident brew of sumptuous notes segues into a bottom like no other: both Oriental and woodsy, notes include white musk, vanilla orchid, oak, red patchouli and vetiver."
You can purchase these perfumes at Beauty Habit and Luscious Cargo. Both online stores offer sample programs.
You can read our review of one of their fragrances, Melograno Selvatico