The Beat by Burberry (2008): 3 Very British Notes {New Fragrance}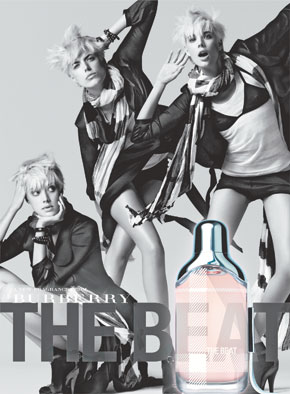 Complementary information is now available on the upcoming
Burberry The Beat
. You can read our
previous post
about the young audience it wants to reach with well-established youth-culture references of the past. The juice was composed by a team of three perfumers:
Dominique Ropion, Olivier Polge
, and
Béatrice Piquet
who are important commercial perfumers often participating in big industry launches.......
The mood of the perfume was directly inspired by the music from "Kasabian, Dirty Pretty Things, Razorlight, the Arctic Monkeys and The Fratellis" and it incorporates three core notes on which the construction of the perfume rests as they are seen to be typically British to give it a "British feel", i.e., in this case, Ceylon tea, iris accord, and bluebell. Other key notes are: bergamot, cardamom, pink pepper, mandarin, white musk, vetiver and cedarwood. The women's perfume is described as a sparkling woody floral scent.
Despite it being marketed as a feminine fragrance, certain androgynous touches were cultivated from the boyish look of the model Agyness Deyn to the shape of the bottle which is modeled after a gentleman's flask. The key concept for the creation of the perfume was "energy".

"The eau de parfum will be available as 30-, 50- and 75-ml. sprays priced in the U.K. at 27 pounds, or $54.70; 38 pounds, or $77, and 48 pounds, or $97.30. A 40-ml. bottle of elixir will retail for 65 pounds, or $131.70. In the U.S. the sprays will be priced at $50, $62 and $80, respectively, with the elixir priced at $130. In the U.S., the 5.1-oz. body lotion will be priced at $39.50 and the 5.1-oz. shower gel will be priced at $35."
(Source: Women's Wear Daily)