A Small Scottish Town Is Not Allowed To Carry Chanel {The 5th Sense in the News}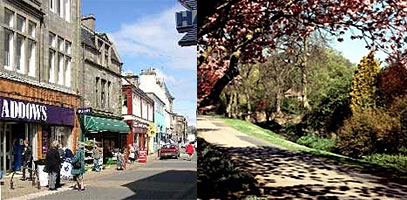 Leven, Fife
In an intriguing and revealing piece of news, it is reported that a small town in Scotland,
Leven, Fife
, was considered to be too working class to carry
Chanel
products in an effort to protect the brand's image of luxury. The town's inhabitants were therefore not able to make their perfume holiday purchases at home, but had to travel 8 miles to a Boots branch located in Kirkcaldy.......
Apparently Chanel always conducts audits before letting a retailer carry its products looking at the store itself and the proximity of undesirable businesses such as in this case, bars and bookies.
"Snub riles Scots town

SNOOTY French perfume maker Chanel is snubbing a Scots town by refusing to allow its posh scents to be sold there.

Christmas shoppers hunting for a bottle of Chanel in Leven, Fife, were on a hopeless mission this year after the Paris-based fashion house declared the town too low class for its luxury range.

High Street shops in the former resort and mining town on Scotland's East coast, were judged inappropriate by the brand after it carried out an "audit" of the area." [....]

A Chanel spokeswoman defended the firm's stance and said: "We value all our consumers hugely, many of whom have shown loyalty to the brand over many years."
(Source: The Daily Star of Scotland, Jan 2, 2008; image from Visit Scotland.com)