Armani Privé Rose Alexandrie, Vétiver Babylone in Les Eaux Collection (2008) {New Fragrances}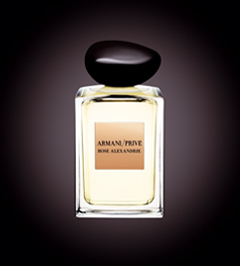 Armani
have released two new perfumes in their more upscale niche collection
Armani Privé
Haute Couture Fragrances
which started as a private collection for friends. This is a sub-section of their collection titled
Armani Privé Les Eaux
, indicating a lighter, fresh thematic and indeed both fragrances offer fresh eruptive departures while playing with contrasts of daylight and night shade or desert heat and earthy cool shade. The perfumes are called
Rose Alexandrie
and
Vétiver Babylone
.
Rose Alexandrie
is inspired by the gardens of Alexandria....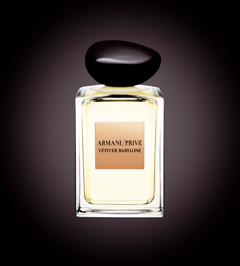 It features notes of bergamot, Italian mandarin, neroli petals followed by a "sunny and powdery" mimosa note and leading into an intense rose heart. The base is vanillic with a note of benzoin.
The scent is meant to evoke both the force and fragility of the rose.
Vétiver Babylone is the evocation of yet another garden, the mythical suspended gardens of Babylon. Mona di Orio has also just introduced a scent inspired by the same gardens with Amyitis. Gardens are unsurprisingly a source of creativity for perfume houses and Hermès is also well-known for its garden series.
It is described as a lavish and exuberant scent with notes of bergamot, citron, mandarin. The heart is spicy with notes of green cardamom, coriander, pink pepper mimicking the scorching heat of the desert.
"In the base notes, the humid, earthiness of patchouli suggest the times of shade. Vetiver is the image of the miracle of Babylon, alternating between rough, dry textures and fresh almost aniseed scented sensations."
The perfumes retail for $185 each.