Caron Aimez-Moi (1996): Buried Roses in Violets: Rose + Violet {Perfume Review} {Smell-The-Roses-Till-Valentine's Day Challenge - Day 26} {Violet Notebook}
The 1996 ad for Aimez-Moi "Love Me - this is just the name of my perfume" from Couleur de Parfum
Aimez-Moi by Caron, created by perfumer Dominique Ropion, was first introduced in 1996 and relaunched later in a different packaging (the peppercorn one). It is reported to be a modern adaptation of N'Aimez Que Moi also by the same house, a rose (and sandalwood) perfume that was created in 1917 to correspond with the atmosphere of World War I and the then felt need to release a memento perfume, one that would be offered as a sign of sworn faithfulness between lovers on the eve of a fateful separation for many.
In fact, linking emotions released by perfume with the alleviation of war suffering was an idea that was pursued by Guerlain as well with L'Heure Bleue at around the same time. It was at one point dispatched to soldiers on the front to scent their handkerchiefs and remind them of home and civilization in the midst of barbarity. Who ever said that perfume was superficial and for laughs? It epitomizes civilization, the good and the beautiful even and especially when hope is nearly lost. If the 1917 perfume said in English "Love Only Me", 78 years later, the message is less dramatic, just intimating a quieter but no less self-assured, "Love Me"......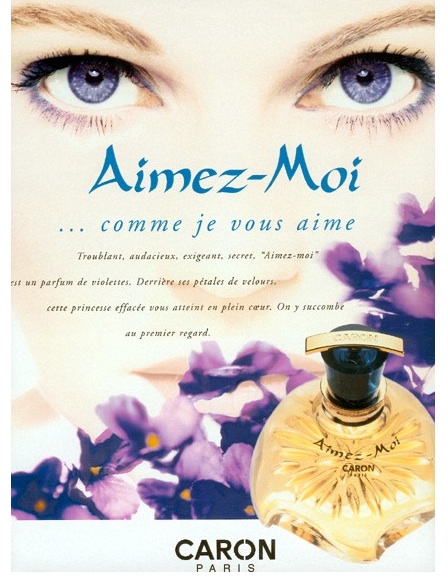 Olfactorily speaking, one can perceive the lineage between the two in a very discreet fashion. The note that links both chapters of a same story is a rose note in the heart, more particularly a rose and violet accord. Where the rose is very assertive in N'Aimez Que Moi, it is more like an undercurrent in Aimez-Moi, while the violet is much more perceptible in Aimez-Moi than in its ancestor. If the rose becomes buried in Aimez-Moi, it is nevertheless quite present, evoking roses and peaches on a summer day and a roll in the hay, then later, a refreshing glass of mint julep. The peachy rose is sunny, a bit exuberant and contributes to violets being more vibrant.

Aimez-Moi is officially advertised as a violet perfume. The paradox of devoting specific attention to rose perfumes is that virtually all perfumes contain some rose (and jasmine) to round off the composition. Rose and violet is a classic pairing to confer for example a certain romantic quality to the rose. In Aimez-Moi, it seems that by contrast, the rose note together with some peach were subtly underlined to make this violet perfume one of the most joyful ones to exist. It the scent of violet can be a bit melancholy and quiet at times, here it is inwardly bursting with joie de vivre. It could not but be a day in the hot summer, a moment of sheer optimism expressed by trampling in the hay in a field bathed with golden light in the Italian countryside with this rich light reminiscent of the golds of saints' auras found in Renaissance Italian paintings.

Our first impression of Aimez-Moi, before we paid any attention to the notes description, was that it was a rose and peach perfume with some unusual facets such as blond hay, tobacco, mint, and violet. As the perfume lies nearby it exudes a captivating, ensnaring sillage out of its box such as one rarely encounters in a fragrance. It seems to develop a presence or a soul of its own. It will not let you forget it.

As the perfume reveals some other facets, it smells also almost exactly like the tailored tweed suit of an elegant woman who smokes. Her clothes are imbibed with the delicious reeks of her favorite cigarettes mixed with some cosmetic powder, the faint whiff emanating from her lipstick case. The composition also blends in the scent of her leather handbag and then an overall perfume-y impression that is difficult to place other than by recognizing it as a luxury perfume.

With this tobacco impression one sees another link with another Caron: Tabac Blond. However here it is not the scent of dissent anymore, but the trail of an urban chic woman.

The composition of the fragrance gives the impression of a bias-cut cool satin dress as the green aromatic notes of aniseed and mint are not an obvious choice with the floral notes. It all feels a bit décalé. The hay and tobacco overtones add to the impression of originality and uniqueness. It is an assemblage of unlikely notes that work beautifully together.
The sillage of this perfume is simply extraordinary. It escapes the limitations of any prison. It lingers for ever on one's clothes. The perfume could have been called "Unforgettable", "Inoubliable", and it would have borne it well.


Notes from Couleur Parfum:
Notes de tête
Bergamote, Anis étoilé, Menthe Crêpue, Cardamome
Notes de coeur
Violette, Magnolia, Jasmin, Rose
Notes de fond
Iris, Héliotrope, Baume Tolu, Vanille