Jennifer Lopez Deseo (2008) {Perfume Review} {New Fragrance} {Celebrity Fragrance}
A Garden By The Beach & The American Dream


In the often decried world of celebrity fragrances, Jennifer Lopez has managed to be both a 21st century trend-setter and standard-bearer of good quality mass-marketed perfumes that aim to please without being condescending to the masses. Balance, prettiness, even beauty, and quality ingredients can be expected from her brand. Deseo continues to keep these values active.

Deseo in terms of semiotics or image is a significant departure from the rest of the Jennifer Lopez franchise as its packaging is unique to the brand, seems to break loose with the amphora-inspired flacons, and the name, for the first time, pays homage to JLo's Hispanic heritage. The bottle was designed by JLo herself together with the Coty Prestige team. Deseo means "desire, wish, dream" or "I desire".
From the name to the shape of the flacon, Deseo positions itself as an aspirational perfume. While it is more usual to see aspirational fragrances for the individual, Deseo is clearly an aspirational perfume designed for a whole community, the Hispanic one, with possible identification for the rest of the potential customers through representations of social mobility, general experience of immigration, or the luster associated with celebrity glamour....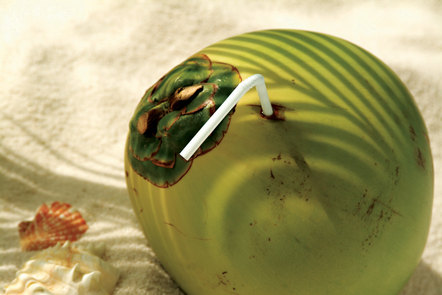 The flacon represents a diamond in the rough and what is interesting to note further is that it was apparently designed to suggest the dynamic movement of someone springing forth or of a sail boat breaking the waves and navigating - one can guess - towards the future and a new life. The bottle here therefore suggests the experience, both concrete and symbolic, of immigration for many an American Hispanic and Americans in general. For others, the flacon remains an interesting forward-looking sculpture and is evocative of sailing in the summer, as is the jus itself which conjures up a day at the beach drinking coconut toddy.
The scent is said to have been inspired by the olfactory sensations found in Jennifer Lopez's private garden in Florida during a midnight walk just before a storm. It is classified as mainly being a woody floral by Coty - which seems to leave out the fruitier, greener, and watery central toddy accord - and one would not hesitate to classify it as a "beach scent" as well. The fragrance was created by Ellen Molner and Jim Krivda of Givaudan.

Deseo is fairly linear in its development showing from the start its main accents: fresh coconut milk or toddy, florals, and a woody architecture. The very first impression is quite standard, even suggestive a bit of a fougère for men, only fruitier. However, the scent soon becomes more complex, mingling green coconut water, flowers, and woods illustrated in a sharp and fresh style initially. As the scent progresses, it becomes rounder, softer, and creamier. The sensations offered by Deseo are new-generation, sophisticated, as they allow for the co-mingling of both creamy and watery impressions without producing a blend but rather a braided effect; both sensations are linked yet remain distinct from each other. The coconut note smells at first more like toddy in the line of Creed Virgin Island Water then becomes more like the scent of Hawaiian Tropic Dark Tanning Oil before softening down to a creamy woody finish. Another reference it suggests is With Love by Hilary Duff in the way it associates girlier tropical fruity notes with more mature woody-creamy ones.

Before that the scent becomes grassier, sappier letting out some more characteristic green nuances, which then are evocative of a fresh garden. Peppery and dewy floral accents develop, Freesia in particular. A subtle fruity-floral tropical bouquet ensues with a noticeable juicy pineapple note that is done in a hyper-realistic style. The dry-down seems to be less tenacious or more subtle but also more complex than with some of her other scents. The coconut accord weaving its way throughout the scent is particularly subtle and pleasurable, smelling of a refined Pina Colada in the end. The "mineral accord" in the base notes evoked in the official note description by Coty is perceptible to our nose as a realistic hot-sand accord.
The florals mingling with varied, contrasting facets make it a more complex composition than expected initially. There is a deep-seated floral accord that one can associate with Spanish culture, perhaps through Maja, and that can be smelled in Moschino by Moschino too.

One feels transported without resistance to a tropical beach abounding in exotic long drinks and flower necklaces. It should be a great laid-back scent for summer.
Notes:
A radiant top: watery bamboo leaves, garden yuzu, Sicilian bergamot, freesia.
A voluptuous heart: star jasmine, pink geranium flower, orange blossom, French mimosa.
A natural base: warm amber, oak moss, sensual musks, creamy sandalwood, Atlas cedar, patchouli, mineral accord.
More information is available on the Jennifer Lopez Beauty site. You can watch a behind-the-scenes video there.
(Source: press release; image of coconut: bodyecology)