Mona Di Orio Amyitis (2008) {Perfume Review}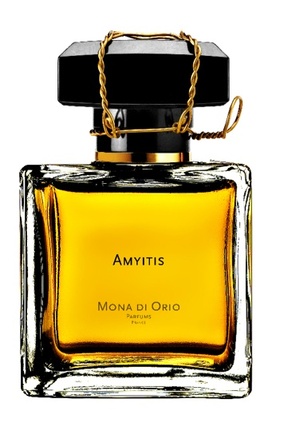 Mona di Orio
new
Amyitis
fragrance is so concentrated on the central and deep idea of freshness - one realizes after a while - quieted down by a more fluid and liquid sensation of shadowed coolness that it will need the full context of summer to reveal all of its character. For now, one can just will mentally that it is Summer, abstract from the distractive surrounding February New England snow that feels like it missed the train and arrived late, imagine that the air is sweltering and then sip in through the nostrils a whiff of Amyitis to measure abstractly its meant contextual impact.
Doing this is experiencing in imagination the age-old thirst for freshness of people who have crossed the desert repeating itself once more as in a ritual. These travelers seemingly without transition step out of the stony mineral sand sea behind them to enter a lush green garden, the dust of the journey still covering their leathery sandals as suggested in reverse in the perfume by the passage from green notes to slightly dusty ones....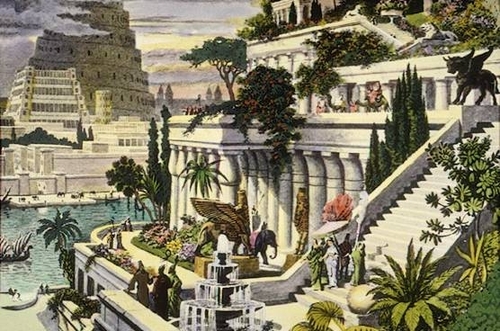 An imaginary depiction of the gardens of Babylon by Maarten van Heemskerck in the 16th century.

Amyitis is named after queen Amytis of Media, wife of Nebuchadnezzar II who is said to have so longed for the green mountains of her native homeland, that her husband decided to construct for her terraced gardens that came to be known as the hanging gardens of Babylon or Semiramis around 600 BC. It is still debated whether or not these gardens really existed and in what location exactly, cf. Wikipedia.

In terms of the family of fragrances and affinities one can identify, this green leathery perfume with a significant woody violet facet seems to be loosely connected to perfumes like Bandit or Silences while betraying a classic Chanel No. 19 inspiration with its iris and green notes contrast and reminding you also of some sweet more modern leathery impressions from the Parfumerie Générale line. It makes you think also of a green L'Air de Rien, a bit, with its barely covered up animality. Finally, vintage mossy nuances are perceptible. One will have gathered by now that it is a rather complex crossroad of influences.

But the Chanel-esque aspect is quite present here as later the perfume reminds you of Chanel No. 18 as well and its ambrette seed note just like it did in Miller Harris Fleurs de Sel.

Mona di Orio's interpretation of the gardens of Babylon seems essentially green and if there are floral notes such as iris and violet, they are not showcased as such but contribute (at first) to a sense of slight powderiness, freshness, and green accord contrasted with a warmer white ambery body although after a long while the violets surreptitiously impose themselves making one think that it might be considered as an original violet perfume. But at first the iris and violet feel faintly dusty-white never mauve for example.
The perfume is not ornate, precious or embroidered, but rather progresses with strongly-characteristic blocs of scent compositions and appears to be mostly tri-chromatic at first, letting out a mauve-brown nuance only much later. The main "colors" of the scent seem to be green, black, and white.The long dry-down is the subtlest part of the scent.

The perfume opens on sweetish and fresh green notes smelling of ambrette seed, violet and grass and then leather with a capital L. After the initial impressions, very soon it is like being slammed on one cheek with fistfuls of green grass and cut herbs and on the other with wet pungent black leather that would have been left to steep in a barrel of sweet liquor, orange-y Grand Marnier to be precise (after a while).
Mona di Orio's compositions are often more powerful than subtle - although not lacking in the latter quality per se as we had already noted with Lux – and with Amyitis we are once more offered an example of her bold style that overrides her more nuanced style. If she were to paint, she would no doubt use a large calligraphy brush dipped in buckets of ink to paint and her work one would assume would be quite physical. This effect can be toned down if you spray less but it is noticeable.

After this initial blast, the perfume softens down, becomes creamier and whiter while keeping its grassy slightly astringent character. The warmth of amber suggests the heat of the desert. The woods, which seem wet and cold and are a bit dry and austere at the same time, emerge. The heart reveals more complexity than the beginning in the sense that things seem to be left unsaid rather than expressed with a physical slap on the face. Hay-like accents mingle together with breathy mentholated notes that create an impression of a draft of slightly humid fresh air escaping from a basement cellar window or more to the point, circulating within the shades of the gardens of Babylon.

In Lux also there was an impression of contrasted smells that escape ancient, hidden, closed architectural constructions (a pyramid it seemed) as if an aroma was quintessentially the meeting of two airs: that of the outside world with that of the inside, that of the open, with that of the closed, that of the past with that of the present. Freshness is also linked to a certain obscurity. It recalls the habit of sealing off houses from the sun in southern countries.

One can also see a constant interest for a certain form of antiquity as reflected olfactorily in sensations of the dust of ages. At one point, Amyitis smells of powdery antique violets pressed and abandoned in between the pages of old leather-bound tomes.

The dry-down is musky, resinous, amber-y, but in an understated fashion. It is delicate and delicious. The spicy saffron smells almost like cumin (caraway probably) contributing a gentle sweaty nuance. There is an interesting "tipsy" accord that surfaces sometimes, as if the violets and the leather were slightly drunk and hiccuping. It is then reminiscent of Chanel No. 18.

Amyitis will probably come to life and bloom at its strongest in the summer time or in warm weather due to its privileged relation to the desire and topos of freshness.
It is now available for pre-orders at Aedes.
Top notes: caraway, savory, capsicum, green leaves
Heart notes: iris, violet, gaïac wood, cedar of Virginia
Base notes: saffron, opoponax, moss, amber