Histoires de Parfums Ambre 114 (2008) {New Perfume}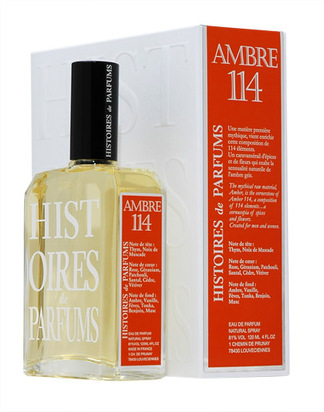 Paris-based niche perfume house
Histoires de Parfums
have introduced a new fragrance titled
Ambre 114
. It is a homage paid to ambergris. The scent is described as a spicy oriental and like all of their other perfumes is a unisex composition.....
The perfume was composed by in-house nose and founder Gérald Ghislain in collaboration with Magali Sénéquier who designed the whole Histoires de Parfums universe.
Ambre 114 is named after the mythical scent of grey amber, and the figure indicates the number of ingredients that went into the blend.
The perfume, which reportedly evokes a "caravanserail of scents" according to the press release opens on notes of thyme and nutmeg then fades into a heart of rose, geranium, patchouli, sandalwood, cedar wood and vetiver. The base notes sound very oriental and sensual with notes of amber, vanilla, tonka bean, benzoin, and musk.
Ambre 114 is available for 130 € at the BO boutique, the Scent Room at Le Printemps, and Galerie Arty Dandy at the Bon Marché.
It might become available later on in the US.